In the spring it is time to take up the cleaning of the body. And we start with its healing liver - the body, in which the filter all the toxins accumulated during the winter.
Content

This important organ of our body is not in order at each
a third of the adult and the elderly person. Symptoms of the problem: the bitterness in
mouth, slightly yellow whites of the eyes, pain when pressing the deep
right upper quadrant, and sometimes increase in size of the liver itself, when
has its lower edge protrudes from beneath the ribs.
It - hepatitis (liver inflammation). And the danger is that
Untreated hepatitis C for years can turn into cirrhosis, threatening of
failure of our main biochemical laboratory.
What does not she like"?
Marinated, smoked products,
containing various preservatives and stabilizers, and spicy dishes
seasonings. The detrimental effects on the liver have a sour berries (cranberries,
kiwi), radish, radishes, garlic, bacon. The liver is suffering from fatty meat
(Especially pork and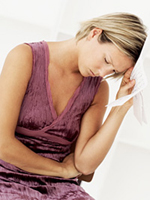 lamb), goose and duck meat, alcoholic drinks,
including beer, strong coffee without milk. And there's one in the liver
serious enemy - overeating.
And that "loves" liver?
Paramount, of course, diet
with a low-fat, steamed dishes. And it is very useful
vegetarianism. But in any case, every day on your desk should
be vegetables. Here the leading position in carrots,
cabbage, beet, corn, tomatoes, cucumbers, squash and y,
pumpkin, parsley, dill.
Carrots should eat at least 150
grams with the addition of oil. Cabbage is better to eat cabbage and
color. It also steamed. Because beet juice can be prepared
(Diluted in half with water), put it in a salad, soup, and in use
for garnish. From fruits and berries for a curative liver especially bananas,
dates, prunes, raisins. Preferably from protein products
lean fish (trout, cod, perch, carp).
Because meat is best suited veal and turkey. Useful cheese, yogurt
(Yoghurt type), fresh milk, cheese, boiled eggs several pieces
week. Of all the foods most valuable product for the liver - it
honey. Take at least one teaspoon twice a day for 30 minutes
before meals. Soup and cook soups, vegetables and no hot spices. Salads, stews
dressed with vegetable (sunflower, corn, olive) oil.
All products are desirable to boil or bake, but in any case not
fry. The water we drink only purified through a filter, live from springs or
thawed. From mineral water to the liver are especially useful mineral water,
as
"Essentuki number 5" and "Slavic", "Narzan", "Barvihinskaya"
"Istra".
purification
To cleanse the liver useful in eliminating congestion in her and
causing a kind of vibratory different kinds of gymnastic
complexes, including yoga exercises. From medical gymnastics -
"Bicycle", "scissors", squats, jumps. In doing so,
Exercise is necessary to tear the legs off the floor heel 1 cm (up to 30 times)
sharply lower with a bang on the floor, in 10-15 seconds, repeat the exercise
30 more times. Is performed at least 2 times per day.
Take as herbal extracts from medicinal plants. Prepare
collect herbs from the St. John's wort, immortality-nick, peppermint, marigold,
licorice root, dandelion roots and flowers. All carefully
mix and a handful of such acquisition (four tablespoons) Pour 1
liter of boiling water, insist night. Take half a cup 2-3 times a
day.
It is also recommended to drink the infusion of rose hips (1-2 h. Spoon the fruit overnight in a thermos pour 1 cup boiling water).
Immortelle, calendula and licorice is also brewed in
thermos. Take a handful of the collection with dandelion and St. John's wort,
pour 1 liter of boiling water and insist night. Drink 2-3 reception.
And resorption began sealing liver leads mummy. Him
best used in the solution for
aloe juice (5 g to 150 g of the mummy
aloe juice). Aloe should be age
at least 3 years. The leaves are washed,
wrapped in polyethylene and
2 weeks in the refrigerator is put, only
then squeeze the juice from them.
Drink 1 teaspoon twice a
day: before breakfast and at night for
2 weeks, repeat the course in 2 weeks. Cycles of treatment mummy repeat 3-4 times a year.
If hepatitis began, as so often happens, the virus
origin, in this case the infusion will ingestion of flowers
Filipendula (meadowsweet), they can be taken orally and cheese
a - eat 1 teaspoon of flowers with jam
3 times a day before meals for 2 weeks.
A plant kills germs antibiotic St. John's wort - immanin. Plant insist on medicinal wines
Cahors Madeira or 1:10, that is, take 50 grams
dried material in 500 g of wine. Because St. John's wort "afraid" boiling
the bottle with a screw cap, filled with grass and medical
wine, put on 2-3 hours in a pot of very warm, but the water nekipyaschey
or insist for 10-12 days in a dark place at room
temperature. St. John's wort prepared infusion drink 1 tablespoon 3
times a day before meals for 2 weeks. Acting on a
treatment and preven-cal program, we will save your liver from threatening
cirrhosis her.