Despite the considerable number of centersTraditional Chinese medicine in our country and hundreds of products made by "old imperial recipes", reflexology only officially permitted in Russia (acupuncture) and five drugs, the rest - an outlaw.
Content


- To some method could be used on the territory of Russia, he
It must be officially registered. As well as any doctor,
received training in another state, shall confirm their
qualifications and get a work permit, - says Alexei Karpeev, CEO FNKETS traditional methods of diagnosis and treatment.
- No doctor of traditional Chinese medicine is not able to
obtain official permission to work in Russia, because it can not
confirm your diploma - equivalent education in Russia.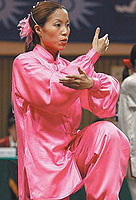 The question is, as a rule, is solved in this way: open center,
obtained the license for certain kind of activity on our own,
Russian doctors, and then in the center of the Chinese come to work and
are welcome. And no one thinks it is, firstly, infringement
law, and secondly, often quackery, because under the guise
Professors are welcome people who do not have higher education. "
One such "doctor" treated the patient from degenerative disc disease. The patient did
dropper unknown Chinese drug. Two weeks after
I start procedures she died from lobar pneumonia. She was 41
year.
Needle-in-law
Among the methods of traditional Chinese medicine (TCM) in our country for a long time and
It has been used successfully only reflexology. Diagnosis of Language,
pulse diagnosis, the Chinese health gymnastics, Chinese
herbal medicine - all this under study. Too bad, because now TCM
for the world is a very attractive primarily for its
efficiency.
The effectiveness of traditional Chinese medicine, we still can
judged largely on Badam (biologically active additives), to whom we
innumerable. By the way, if there were no dietary supplements in Russia today
It would be considerably more registered Chinese
drugs.
But the means check how much a food additive
cheaper than medication, because of which the ordinary suffering again
consumer - to catch the shaft among those products that really
help, and separate them from the futile and extremely falsified
complicated. If you want to somehow protect yourself, be sure to
See if they have a drug or supplement the state registration -
it is evidence that the supplement is safe and effective enough.
He sees eye,
Yes tooth itching
- When the medicine
more than 5 millennia, a sin not to take advantage of its achievements. Not
so our academic science more omnipotent, to reject
tried and tested by other systems of medicine, - says Alexei Karpeev. - AT
small in Switzerland employs about 150 Chinese
doctors. But there is a rigid system of medical monitoring, there accept
experts really know.
It would be nice to prepare us and their doctors of TCM. In several universities
create specialized groups, which would have gone to China
training. I hope that in 2-3 years we will come to these decisions.
Traditional Chinese medicine in Russia is very advertised,
some of it is called "the twenty-first century system." This, of course, an exaggeration,
it is not a panacea, but a good, nice medsistema, which must be
use, especially now that we have a preponderance of chronic
diseases in which she is very good at helping. It is certainly
it is necessary to implement, but carefully and wisely, taking in this regard the example of the
the Chinese ".
Speaking of drugs