Many of us are ever to contact the ambulancehelp. Often have to call the doctor in a precarious situation, where a decision must be taken immediately. Often time soon ambulance depends on how accurate and complete information could provide to address. Let's see how to call the ambulance.
Many of us are ever to contact the ambulancehelp. Often have to call the doctor in a precarious situation, where a decision must be taken at lightning speed, because the price of delay may become a human life. Strangely enough, but often time soon ambulance depends on how accurate and complete information could provide to address. Let's see how to call the ambulance.
How to make a call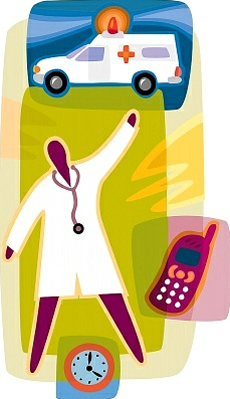 Modern people with communication problems are notexperiences. Everyone in possession of a mobile phone, with which you can make a call at any time. If you are near a landline phone, rather make a call from him. It is not everywhere and always works flawlessly cellular communications. There may be failures in the network, so landline then becomes more reliable. ambulance number when calling from a landline is known to everyone since childhood - 03. If you still calling from a mobile, can dial a single emergency number 112. No operator for a call on this number does not charge. Readers of our site is to remember that the call to the number 112 will be able to even with a negative balance on the account, and even in the absence of a SIM card in the phone. The rescue service will listen to you and will transfer the call to the right emergency department. Despite the operational work of the emergency services, in this case, valuable time can be lost. So you should know that, you can call an ambulance for each operator reserved own number. Beeline subscribers need to dial 003 subscribers Megafon, MTS, Tele2, U-tel - 030. The subscribers of Sky Link and Motive - 903. If you have another regional network operator, the emergency number is better to clarify.
Often, by calling an ambulance, you geton the answering machine. Many in this case, instead of staying on the line, dropping the call and start calling again. Doing this is not necessary. Your call is automatically queued, and the first vacant operator answers you.
What should be reported during a call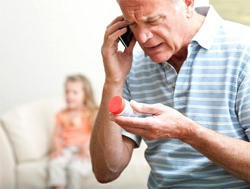 Sometimes we ask for medical helpstress or even panic situation. This happens especially when you or your loved one abruptly fell ill, and you alone can not determine the cause, and therefore do not know how to help. During a conversation on the phone, try to keep calm. Otherwise, in a panic, you can mix up the address or forget to convey important information. So, you should inform the operator on duty at the answer, at first what happened. If you know the cause of the disease or the patient's poor state of health, you name it. If you can not determine, because of what man has become drastically wrong, as clearly describe the symptoms as possible. For example: "A man abruptly turned pale, began to breathe heavily, fell to the floor, is now in near syncope." Description of the type "I do not know, you know, bad man", will complicate the task of the operator. After all, on the basis of your words, he decides what to send a team to the challenge: cardiac, trauma, intensive care, psychiatric, toxicological, neurological, obstetric, etc. With the same purpose, the operator will ask you to name the patient's gender and age. Because the disease in both men and women can often vary. Similarly, as in young people and the elderly. Be sure to tell them you have already done. If given some medicine, let the name. It is best to visit a doctor not to throw away the empty vial or packs of pills, because over time you can easily forget the name of the medicine. Be sure to show them to the doctor arrived. It is possible, if you do not put in the doctor's reputation or knowingly utaite this information, it can affect the patient's health. After all, the doctor may give a drug which is incompatible with the fact that a few minutes before taking the patient, or give the same again, thereby to increase the dose, which also entail negative consequences.
Clearly legible name and address. In some cities, many consonant names of streets and alleys. The operator may be heard other similar name, and then the ambulances would come to the wrong address, and valuable time will be lost. It happens that has applied confuses names: instead Avenue or Boulevard Street says, instead of stalemate or travel lane. But many, especially big cities can be both street Gagarina and prospectus of Gagarin Cosmonauts boulevard and lane Cosmonauts, etc. Very often there are errors in the designation of numbering. It may be confused or not the body is called the number, structure or has an invalid letters. Though it seems to us that your office or home address, we know by heart, anything can happen in emergency situations. So be very careful when you provide the address. Do not forget to tell the code from the entrance, if you call an ambulance home. Otherwise, the doctor will be difficult to get into locked, especially if it's at night. To communicate with your operator asks for your phone number. It is better to inform the city. Since your mobile to fuss and panic, you can post somewhere in the other room and just do not hear the call, when suddenly there is a need to contact you.
How to meet the ambulance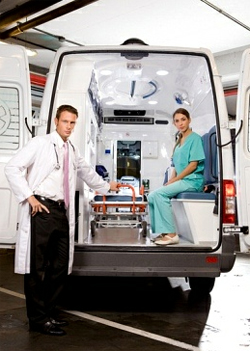 Once you have made the call and youIt reported that the ambulance on the way, make sure that a doctor will get to you. If possible, please send someone else or themselves go down to open the door to the stairwell. First of all it is necessary to make those who live in homes that do not have security locks and doors open only from the inside. And as for those who have wrong with the intercom. Otherwise, the doctor simply will not be able to call you to the apartment. If you call an ambulance to work, try to advance to send someone to meet and accompany doctors. If you have a valid work permit system, advance write out a pass or discuss the matter with the security and administration of your organization.
In many cities, parking is an acute problem.cars. Despite the fact that now they allocate places for the location of special equipment, it happens that an ambulance does not have the opportunity to drive close to the desired address. Try to think through this question. You may know cars parked nearby by your neighbors or work colleagues. In this case, try to ask them to drive the car and make room for an ambulance. This is especially important if you believe that the victim will have to proceed to the hospital in the ambulance and it will be difficult to get to the car on his own. If it is likely that the patient will have to be carried on a stretcher, try to find two physically suitable men for this. These may be members of your family or, again, neighbors and work colleagues. There are not always people in ambulance teams who can deliver the patient on a stretcher to the car.
Be prepared to provide the affected documents: passport and insurance policy. If there is a chance that the patient will be hospitalized, collect things essentials: a bathrobe, slippers, replacement clothes, personal hygiene items. Then you are just in a hurry do not have time.
In some cases it is necessary to call an ambulance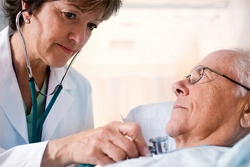 For some reason, many of us, to put it mildly, not alwaysfavor of doctors and are often the last to suffer sickness and pain, hoping that will cope with the problem. Alas, such a position is not always correct. Of course, this does not mean that because each of sudden ill health is to call an ambulance, which works so missing. In this case, we advise you the following. If you know the symptoms and know exactly how to handle it, do not bother doctors. If you are experiencing this condition for the first time and do not know what this could be caused by, or feel you just needed expert help, do not hesitate to contact the "fast". It also happens that the operator refuses to call, as a rule, in cases where a person can own to get to the nearest hospital or clinic. Another medical emergency does not leave the sick to relieve alcohol intoxication. Workers ambulance there gradation calls. Urgency of departure depends on how urgent is the treatment. So, to the paramount concern: traffic accidents, heart disease, accidents, etc. If the patient's life is not in danger, and the call is connected with pain in the joints, Lower back, with the temperature, shortness of breath, cough, with exacerbations of chronic diseases without a sharp deterioration, etc., The ambulance will arrive within two hours.
The cases when medical help is needed,include conditions that may threaten life and health of the patient, the sudden sharp deterioration in health, severe acute pain, accidents, injuries and fractures, severe poisoning, complications during pregnancy, childbirth, mental disordersThat threaten the lives and health of other citizens.
You and your family we wish to always firstHealth queue. Therefore it is necessary to think about their own condition and state of health. Do not be afraid to call an ambulance, because she works for many centuries in order to save lives. Never wait for a sharp deterioration in health status. Better to spend time on the doctor trifling challenge than procrastination and delay in seeking care will entail serious consequences. When you call, keep calm and do not lose your temper. Remember that doctors will focus on the information that you provide initially, so the information should be as accurate. Protect yourself and your family and be healthy!