MedKruga team wishes you a Happy New Year! Do you believe in miracles? On New Year's night, anything is possible. Just make a wish and it will come true!
Content
---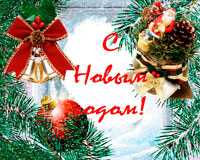 Ends difficult
year 2012. Each was filled with special content, and at the finish
each different, too. Like sitting around a big table a huge family:
Champagne for all the glass from a bottle, but it seems one sweet, the other
sour, and a third drink it only out of respect for tradition.
Whatever it was, we want to
to congratulate you on the fact that this year ends. It is not necessary
take into the upcoming old worries and hardships. Let's leave the outgoing
, all that we do not like, but in the bag with presents only the most carefully laid down
pleasant: the memories of happy moments and hope that in the
the near future, our dreams will be carried out.
The friendly team MedKruga
you wished, primarily health. After all, we are here, so you can
improve their health and take care of themselves in advance. Man - a creature
physically frail, but possessing a strong spirit and a strong will. That internal
the force will help us to meet any challenge and to upgrade and become more
stronger, tighter, more unbending.
Stay healthy, my friends! we
wish you love, warmth and happiness!