Teach a child with cerebral palsy at home or in a specialized boarding school? Jobs and careers of people with serious illness. Answers to these and other questions in more detail in the article.
Content
Getting an education
Unfortunately, not all secondary schools are willing to accept
a child with cerebral palsy. But the experimental classes, where, together with the usual
students enrolled and children with disabilities, still exists.
Basically
they meet in private schools, where the number of students is much
less than in the mass, and where the teacher is easier to choose a plan
training tailored to the individual characteristics of each child.
If the motor disturbances baby so pronounced that it is not
allow it to move independently and master the skills
self-service, it is worth thinking about studying at home or at a boarding school.
Learning at home
Learning at home has advantages and disadvantages.
Of course, in the usual, familiar obctanovke child feels
confidence and security. A teacher's individual work with the child
It allows you to give it the maximum attention and carefully monitored
the process of assimilation of the material.
However, it is impossible to comprehend the full
human relations, while only in the family, or reading books.
Education alone with a teacher deprives a sick child
necessary communication with peers. Under these conditions, the process
socialization slows down considerably, and many of the problems in
relationships with others and remain unresolved.
Education in boarding
This method of education allows you to fix the problem
social exclusion. The boarding child not only receives general
knowledge, but also taught life skills, and experienced specialists are
measures aimed at vocational guidance. timely
pathologists help, medical, exercise instructors can not only
eliminate many disorders caused by the disease, but also prepares
baby for a meeting with the outside world.

I would like to cite the words of one of the graduates of this
boarding. Currently, a talented programmer, director
a successful advertising firm.

Once in an interview he said:

"I am very
thank parents for what they put me in a boarding school. Exactly
there I learned independence. If they did not, I do not
I had to the fact that I have now!".

However, parents should not tune in to what to teach their kid
all the tricks of life can only experienced teachers. than before
initiated corrective actions, the easier the process will be held
adjustment to reality. A basic skills
Self should try to instill in the child even before the
school age.
We can do without professionals?
Some moms and dads prefer to educate their children with cerebral palsy
home, alone. However, the child can be a real help to provide
only if the collaboration of different specialists.
Besides,
Many rehabilitation centers are specially equipped
gyms, relaxation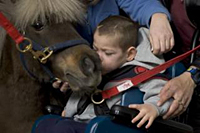 tional rooms, pools and course
in these institutions it provides not only general subjects but also
additional classesand IAimed at correcting and perfecting
psychomotor development, speech therapy and psychological assistance,
the restoredtion of motor functions. And besides - daily
medical control.
Jobs and Careers
People with a mild form of cerebral palsy can master many professions. it
especially the profession of mental work: eco-

Misty Jr.
medical personnel, teachers (not teachers of lower grades,
requiring calligraphy).

For people with moderate
ICP more appropriate specialty, allowing to work at home, - ethe
programmers, journalists, freelancers and even (with the preservation of motion
Hand) seamstress. In severe cases, employment is not possible.
Laws of success
If mom and dad want to bring up their child full
personality, the most adapted to the social existence,
in spite of serious illness, they need to learn two golden rules of effective work:
Every child has
individual range of available options, with careful study
which you can choose the most adequate share of the load.
good
result can be achieved only in the case based on the edge
possible, and not to look back on past defeats. The key to success - it
systematic, patient and focused work.
But most importantly, they need to know and feel the child - something that
huge and not always friendly world there is a small island where he
can always feel secure, loved and desired. A
the desire to achieve something in life only appears when
little man believe that he is able to change its position in the
society.
Moms and dads should always remember that each child is required to
becomes an adult. And on the decisions taken by us today will depend
tomorrow's victories and defeats of our children.
Read the beginning