The autumn-winter period is characterized by a sharpsplash incidence of viral respiratory infection among children. Quickly deal with acute respiratory viral infection of the child inhalation therapy will help.
Content
---
The autumn-winter period is characterized by a sharpsplash incidence of viral respiratory infection among children. Recovering from a cold are often stretched to weeks. Often, a runny nose and a cough after viral respiratory infections a child persists for months, which disrupts sleep, reduces appetite, causing a decline of vitality and has a negative impact on the learning process. Sometimes the common cold is complicated by sinusitis, bronchitis or pneumonia, it is unsettling for several months. How to help your child to quickly deal with the acute respiratory viral infection? How to speed up his recovery?
Inhalation therapy for cough in children with SARS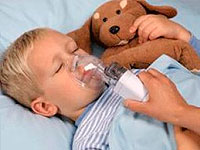 Acute respiratory viral infections - generaltitle airways diseases caused by various viruses. The nature of the flow of SARS in children depends on many factors. Most flu have been mild, but there are cases of serious complications and death of children. Therefore, if a child is sick in the first place, you should consult your pediatrician. Only a doctor is able to assess the condition of the little patient, and in view of his age, the type of infection and the nature of the disease course to give necessary recommendations for treatment.
Among curative measures for coldsdiseases occupies a special place inhalation therapy. It allows to deliver drugs directly to the site of inflammation, avoiding their ingestion and concomitant systemic effects. Runny nose and cough with SARS in children is the main indication for inhalation. The sooner treatment is started, the sooner depart respiratory viral infection.
Previously, inhalation therapy was only availablein polyclinic. Now, in order not to risk once again and lead a simple procedure on a child in a doctor's office, you can use a home nebulizer. Moreover, such a device is useful not only for treatment but also for prevention of SARS during the epidemic, it is always better not to bring the case to the disease.
Types of inhalers
Before you run to the pharmacy for an inhaler, is not superfluous to know what types of devices exist and which ones are most suitable for treating acute respiratory viral infections.
Steam inhalers usually are designed forthe use of mineral water, essential oils, infusions and decoctions of medicinal plants used in the treatment of rhinitis, pharyngitis, tonsillitis, tracheitis and laryngitis.

Nebulizers provide deeper penetration of the spray solution into the airway and are intended for treatment of diseases of the bronchi and lungs by using various drugs.
To treat a runny nose and cough surface SARS after the child fits a steam inhaler, but in bronchitis, pneumonia and asthma is better to opt for a nebulizer.
Nebulizers - what are they?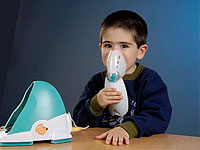 The first thing you should pay attention when buying a nebulizer - is the size of the particles sprayed them, it should range from 5 to 10 ICN.
Nebulizers are:
Ultrasonic is practically noiseless, are small in size, but are not suitable for the introduction of antibiotics and hormones, as these substances are destroyed by the action of ultrasound;

compression, generate smaller particles are preferred in case of bronchitis and bronchial asthma, but have impressive dimensions and very noisy during operation.
What medicines can be administered to a child using a nebulizer?
Bronchodilators, medications commonly prescribed for bronchitis, bronchial asthma.
Mucolytic drugs designed to liquefy phlegm and facilitate its removal.
Hormonal treatments are often used in bronchial asthma.
Antibiotics and antiseptics recommended for sore throat, pharyngitis, tracheitis, bronchitis.
Immunomodulators, such as interferon.
Mineral water, saline, thinning sputum.
The exact dosage of drugs and doctor picksFurther it is necessary to adhere strictly as drug delivery sequence - first bronchodilators, after 20 minutes, expectorants, antibiotics, and then anti-inflammatory drugs. Sometimes, to soften the cough in a child is enough mineral water inhalation or physical. solution.