In anticipation of a long winter break beforeparents is the question: how to organize their child to public holidays have been not only the most interesting and fun, but without harm to health?
Content
---
Festive menu for children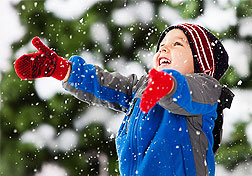 holidays often lead to a significantretreat from the usual diet in both adults and children. However, in preparing for a child menu of some products still should be avoided. These include, for example, spicy seasonings and spices, rare exotic food, smoked.
Salads for children is better not to fill with mayonnaise and low-fat sour cream or vegetable oil, unsweetened yogurt.
Fried foods should prefer foods, baked in the oven, and the child did not drink soda or junk store bought juices are high in sugar, cook him a compote of dried fruits.
The main thing that the food was fresh, yesterday's dishes to New Year's table to give the children is not recommended.
And, of course, necessary to control the amount ofchild consumed sweets. If possible, they should replace fruit salads or homemade cookies, which you can cook with your child.
The virtual world is replacing real
Winter season - not a reason to allow your childspending most of the day in front of a TV or computer screen. Recommended stay on the computer for children 7-12 years - a total of 20 minutes at a time, and at an older age - half an hour. As for the TV, it is better to watch the child is not more than an hour and a half a day.
An excellent alternative to a walk and will play onfresh air. Skates, skis, sleds and other winter sports not only give the child positive emotions, but also strengthen the growing organism, helps to develop coordination and stamina. However, by teaching the child to winter sports, we can not forget about their possible injuries. Therefore, the first athletic skills the child should receive adult supervision.
Clothing for the season
To make the time spent in the openthe air was good for the child's health, not harm, you need to think carefully about his wardrobe. Better to winter clothing set consisting of several layers.
Clothing, adjacent to the body, should be from cotton material.
For the second layer suit coat or padding polyester. Last is light, besides dries quickly.
The top layer of clothing designed to protect against wind,rain, snow, so the fabric should be waterproof, but allow the skin to breathe. Therefore it is better to choose fabric containing nylon and polyester.
In jackets or overalls zipper unzips should be well. Very convenient when they are at the same time there are special sections and holes to facilitate ventilation.
However, collecting the child before going out, do not go to extremes and wear it too many things. Clothing should be warm, light and does not hinder movement.
Leisure with caution
During the holidays the traditional entertainmentChildren are New Year's, Christmas trees, performances, exhibitions, guided tours - places with large concentrations of people. Meanwhile, visiting such events significantly increases the risk of infectious diseases, especially in winter. So explain to the child that it is necessary as it is possible to wash hands often with soap and less touching your face during the day. And just before leaving the house to lubricate the nasal passages or viferonovoy Child oxolinic ointment.
Another nuisance which can trapchild for such mass events - it is the likelihood of contracting head lice and lice simply. Since head lice is transmitted mainly by contact "head to head", and children are always very closely communicate with each other and touch each other, the risk of infection is quite high.
If your daughter - the owner of long curls, before leaving the house braid them into a beautiful braid.
Communicated to the child, it is better to use only their combs and hats, as well as other people did not measure the carnival masks and wigs.
As a preventive measure necessarilycarefully inspect the head with a comb with frequent teeth. Particular attention should be paid to the area of ​​neck and behind the ears - it is in these places often live parasites.
If you still found the child headpediculosis, in any case, do not panic. Use one of the pediculicides funds, which are now sold in any drugstore (eg, funds on the basis of mineral oil series "Paranit"). And forget about the popular media, as most of them are ineffective, and some may even be harmful to health.
For the winter holidays have been helpful for the childand productively, and for the New Year holidays, he got a good rest and positive emotions, follow these simple guidelines, which will protect it and you from any worries.