Who is at risk of the disease fibrosing alveolitis most? Does the age factor on disease? Answers to these questions are known to the author of this article.
Content
---
What provokes the development of fibrosing alveolitis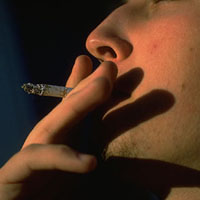 Fibrosing alveolitis - a pathological process in the lungs. It is characterized by inflammation and progressive fibrosis of the lung tissue.
When the disease develops respiratory failure.
Risk factors include:
tobacco smoke;
metal dust;
silicate dust;
wood dust;
asbestos;
viruses.
The main manifestation of fibrosing alveolitis are expanding and inflammatory changes of the bronchi, mainly in the lower segments of the lung.

Clinical manifestations reflect the increasing respiratory failure. Complaints of shortness of breath, dry cough. Fever and cough appear complications.

Also, the following symptoms are observed in fibrosing alveolitis:
fatigue, malaise, chest pain, aching
nature, worse with a deep breath, and later - weight reduction
a body;
stable irreversible bronchiectasis;
40% of patients with increased body temperature;
occur with the progression of tachypnea, tachycardia, cyanosis, finger deformity in the form of "drumsticks" (with long-term course of the disease);
inspiratory sound can be heard on "crackling cellophane" type, in the later stages - sound like cork friction of the cork;
evolving right ventricular failure.

The disease is more common in people aged 50 years and older.
In the US, the prevalence - 20 cases per 100 000 men and 13 - 100 000 women; incidence - 11 100 000 men and 7 - 100 000 women.
In the UK the prevalence - 6 cases per 100 000 population.
In Russia, there is no accurate statistics.

The main group of patients are elderly, so it is necessary to take into account the high probability of comorbidity of cardiovascular disease.

In pregnancy, the feasibility and risk of carrying a child depends on the degree of respiratory failure and therapy.
When complications are required antibiotic therapy and transbronchial sanitation.
When pnevmoskleroze, "lung cell" severe respiratory failure must be treatment of the underlying condition in combination with symptomatic therapy.
Watching a pulmonologist - at least 1 time in 3 months.