If you hesitate to wear revealing clothes oreven you consider yourself unattractive because of birthmarks, papillomas, warts or other unpleasant growths on the skin, forget about it! Now that the innovative methods of aesthetic medicine and laser surgery to solve this problem, there is a real chance to finally get rid of skin lesions quickly and comfortably. This means again to feel beautiful and confident!
Content
---
Unfortunately, more and more often latelycommon problem of skin tumors. Papillomas, nevi, moles, fibromas, warts, birthmarks red - the cause of the spread of these phenomena is the increased solar activity, and poor environment, as well as viral, endocrine, and immune disorders. The possibility of malignant transformation of some of these structures, make this problem not only cosmetic. Fortunately, there are treatments that allow you to quickly, safely and painlessly get rid of all skin blemishes.
Where to go?
Telo's Beauty aesthetics and rejuvenation clinic on Shabolovskaya.
Aesthetics network of clinics and Telo's Beauty Rejuvenation -a recognized leader in the field of health and beauty, winner of the "National Award in the field of professional beauty 2009", is probably the largest in Europe in terms of specialized equipment.
What methodologies?
At the Telo's Beauty Clinic on Shabolovskaya forFor treatment of various skin pathologies and removal of neoplasms, advanced technologies are used: the MULTILINE laser multifunctional complex, the Lancet CO2 (carbon dioxide) laser, the SURGITRON radio wave surgery apparatus, the VBEAM laser, the FRAXEL laser.
Laser complex "multiline" - Your guide to a smooth skin without scars, traces of post-acne and hyperpigmentation.

"Multiline" represents somelaser emitters available in the complex, which can effectively treat hyperpigmentation, scars (including keloids), post-acne (acne scars).
CO2 (carbon dioxide) laser "LANSET": accuracy is above all. Removal of moles, warts, cysts, age spots, melasma, scars and scars.

Laser "Lancet" created on the basis of the latesttechnologies in the field of laser surgery. It removes moles, warts, cysts, hemangiomas and other skin tumors. This laser is equipped with an original two-beam system, which ensures the accuracy of the procedure and minimal damage to healthy skin around the tumor. The non-contact method provides complete sterility.
Device for radio wave surgery "SURGITRON": to beautiful skin without pain and scars.

Especially for the removal of benignskin neoplasms: papillomas, warts, molluscum contagiosum, corns, genital warts in Telo`s beauty clinic device used radio wave surgery "Surgitron". The effect is achieved due to heat generated by the resistance of tissue penetration of high-frequency waves are directed. The advantages are obvious - a gentle method, sterility, accelerated wound healing, does not leave scars coarse.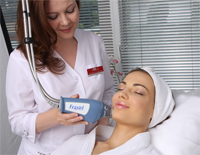 Laser FRAXEL: a revolutionary technique in cosmetic laser.
Fraxel procedure - to date, it is oneof the safest and most effective way to eliminate skin blemishes. It is equally effective in removing defects in both young and mature skin: to get rid of age spots, melasma, smoothing scars, post-acne removal.
Which method to choose?
The doctor will do this for you. It is important to remember that all methods of treatment and removal of skin neoplasms require prior consultation of a dermatocosmetologist. To remove a mole, wart, angioma, etc., the doctor needs to diagnose a neoplasm. Subsequent removal immediately after consultation is possible if the doctor does not have doubts about the benignness of the tumor.
Removal, as a rule, is carried out in one procedure. The average duration of the procedure is 10-60 minutes.
Enrol for a consultation to remove tumors of the skin, you can call Telo's beauty clinics in Moscow: +7 (495) 544-40-40 and +7 (495) 609-6-888.
Our address - ul.Donskaya, 32.
Our specialists:

Shepty Oleg, chief doctor of the clinic, dermatologist, laser surgeon.

Epikhin Nikolai, dermatologist, laser surgeon.