If your skin is prone to rosacea and rosacea (pink eels, which are often accompanied by vascular disease), please note the following tips for skin care.
Content
precipitating products
The list of products that may provoke an exacerbation of rosacea and rosacea and, if possible, their use should be reduced to a minimum:
liver, yogurt, sour cream, cheese;
chocolate, vanilla, soy sauce, yeast products (except corn);
pickles, avocado, spinach;
beans;
citrus fruits, tomatoes, bananas, red plums, raisins and figs;
sharp and very hot dishes.
Beverages:
Alcohol, especially red wine, beer, whiskey, gin, vodka, champagne;
hot drinks, including hot cider, hot chocolate, coffee and tea.
Daily Skin Care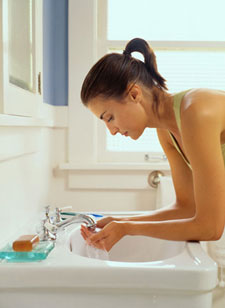 Every day should begin with a thorough and gentle cleaning of the skin:
Use only sparing cosmetics. Not recommended cleansers containing abrasives or granules.

sensitive skin, the natureprone to the appearance of rosacea, it is necessary to use special cosmetic products that do not break the epidermis and protect the skin from adverse external influences.

formulations must be applied on the skin just fingertips without using special devices (mittens cosmetics, massage brushes, etc.);

wash your face with warm water;

avoid the use of cleansing foams;

apply lotions and tonic, not containing alcohol, acetone, oils;

at the end of the purification procedure is better to allow the skin to dry yourself in the air, or can be wiped dry with a thin face with a paper towel;

You need to clean the face 2 times a day: in the morning and evening.
Try not to stretch, do not scratch the skin. Avoid rough towels, brushes and sponges.
After washing before applying any medications or products for skin care need to wait for the full self-drying water on the skin.
Before applying topical preparations should beleave the person alone for a few minutes. Give this drug completely soak for 5-10 minutes after application, and only then apply any moisturizer or cosmetics.
Men You need to use electric razors, in preference to machine tools and blades.
If easel shave you prefer,Do not use blunt blades, which can cause additional cuts with careful shaving. Avoid alcohol-based aftershaves, causing a burning sensation.
Apply sunscreen preparations.

If you live in a sunny area, then applySunscreen products should be year round with an SPF of 15 or higher. If possible, reduce the maximum length of stay in the sun from 10 to 14 hours during the months of intense solar radiation.
In order to avoid irritation, it is advisable to use special formulations designed for sensitive skin or for the care of children's skin.
It is important to ensure that the skin is not overheated. If you can not be in a cool, well-ventilated place in the hot, humid days, you need to carry with you always cold drinks and drink them all the time in small sips. If necessary, it is possible to apply a piece of ice to reduce the temperature of the face or skin using cold water from the spray.
Moisturizing cream.

Apply the cream should be as often as skinnecessary hydration. When using external drugs, moisturizing cream may be applied after the application of drugs, waiting for their complete absorption.
It is necessary to apply cosmetics to camouflage redness and spots on the skin.
Most cosmetic departments availablecosmetics shades of green to camouflage redness. Furthermore, it can be applied foundation to skin tone. It is recommended to avoid the powder, which can emphasize the dry skin and cause flaking melkoplastinchatomu.
vitamin therapy - A very important aspect of skin healing. If you have rosacea (acne rosacea), vitamin complexes must include zinc and should not contain any components of algae or marine extracts, sea salt or iodide, can provoke acne eruptions.