What are the methods of treatment of prostate cancer? What is the operational, drug and radiation treatment during prostate cancer? Read in this article.
Content
Treatment of prostate cancer
Pressure Cancer Treatment Methods
There is an operational, drug and radiation treatment of prostate cancer.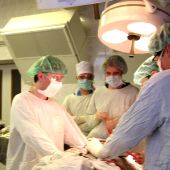 Operational treatment methods are applied only when the tumor has not yet given metastasis. In this case, the prostatic gland is removed.
If the operation is performed successfully, it practically guarantees complete cure from prostate cancer without any health effects.
Medical treatments are treated with hormones. It has already been said that the growth of the tumor depends on the level of testosterone in the blood of the patient.
Hormonal drugs reduce or block testosterone, and this allows you to reduce the growth rate of the tumor and its metastases. Hormone treatment does not give full
cure, but improves the patient's condition and reduces the symptoms of the disease. Unfortunately, hormonal drugs have a number of unpleasant side effects —
Increase blood pressure, reduced potency, gynecomastia and other. If you are prescribed hormone therapy, be sure to consult with
doctor what to do with such phenomena.
Radiation therapy is the irradiation of the prostate gland area with radioactive radiation. This reduces tumor growth rate, reduce
The likelihood of metastases. Radiation therapy also does not give healing from cancer, but improves the patient's condition, facilitates and extends his life. Often
Radiation and drug therapy are used together to enhance the treatment effect.
Factors influencing the choice of treatment method
When choosing a treatment method, such factors are taken into account as:
Age and expected period of life
Your attitude to possible complications related to treatment
Availability of serious concomitant diseases
Stage and degree of malignancy tumor
The probability of cure when applying a method of therapy
Stage I:
Such tumors usually grow very slowly and many of them do not cause any symptoms or health problems. For elderly men who do not have
Symptoms of prostate cancer or having serious accompanying diseases, dynamic observation may be the best option. This is especially
Refers to patients with low prostate-specific antigen (PSA). If you are young and you have good health, you can offer radical
Operation (removal of prostate gland) or radiation therapy.
Stage II:

In patients with the II stage, which did not carry out operation or irradiation, there is a high probability of proliferation of a tumor outside the body and appearance
Symptoms. In senior patients with concomitant diseases, in the absence of symptoms, dynamic observation is possible under the control of the PSA level.
For
Younger patients with good common states can be recommended:
Radical operation (prostatectomy often together with removal of pelvic lymph nodes, sometimes after special therapy, inhibiting production
Androgen)
Only outdoor irradiation or
Only intra-grades irradiation or
# Combined outdoor and intra-freed irradiation
Cryosurgery
III Stage:

Patients with the III stage are recommended:
Dynamic observation in elderly patients without cancer symptoms or with serious concomitant diseases, or
Radical prostatectomy (without preserving nerves) in individual patients (often with removal of pelvic lymph nodes, sometimes after depression of production
Androgen), or
Only outdoor irradiation, or
# Combination of intras and outdoor irradiation, or
Only therapy, inhibiting the development of androgen, or
# Radiation therapy in combination with the oppression of the development of androgen
IV Stage:

In this situation are held:
Therapy for the oppression of the development of androgens, or
Outside irradiation together with the oppression of the development of androgen, or
Operational intervention in order to stop bleeding or eliminating blockage of urinary tract, or
Dynamic observation in elderly patients without cancer symptoms or with presence of serious concomitant diseases.

If, after the standard methods of treatment, the symptoms of the disease are preserved and the tumor continues to grow and distribute, then chemotherapy is used.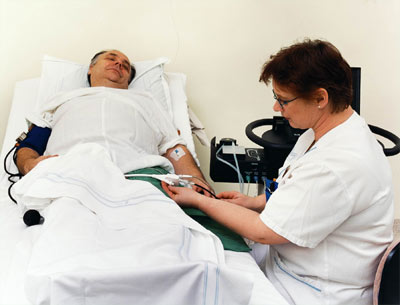 Recurrence of prostate cancer:
In the event of a relapse (return), the tumor subsequent treatment will depend on the previously conducted therapy. If a radical prostectomy was previously performed and there is only a limited relapse, then radiation therapy may be recommended. If the irradiation was initial treatment, but there was a relapse, then in some cases they can recommend radical prostatectomy, although this operation may be accompanied by serious complications. When localized recurrence can also be applied cryosurgery.
In the case of tumor propagation, hormonal treatment can be recommended far beyond the prostate. Rady or drug therapy can be appointed to facilitate the symptoms of pain in the bones.


Humanistic prostate cancer:
This type of cancer does not respond to hormonal therapy and it is difficult to treat it. In these cases, drugs affect the levels of hormones in the blood (ketoconazole, megesterol, diethylstyl bestrol), which may be effective.
Some antitumor drugs reduce the PSA level and improve the quality of life. Bifosphonates can be effective in patients with metastases of prostate gland cancer in bones, they reduce pain syndrome and even slow down the tumor growth.