Tupperware® company, the world-famous manufacturer of exclusive dishes for home and kitchen, introduced a new brochure «Proper nutrition for your child's health. Recommendations, recipes». About why this collection for Tupperware® is especially important, tells the regional vice president of Tupperware® CIS Elena Putilina.
Content
---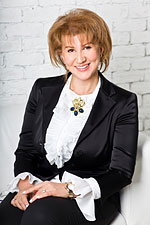 Tupperware company® regularly produces recipe collections, and it is clear — Its products are directly related to cooking. What is the feature of a new brochure?

This brochure for us — perfectly special. We decided to turn to cooking for children, but this time it's not at all in cooking. It is not only about cooking, but about supporting those who especially need it. Brochure «Proper nutrition for your child's health. Recommendations, recipes» First of all, the moms of those children who undergo treatment in hospitals. The issue of nutrition of a child fighting with a disease is often complex and far from idle. It is important not only to choose the correct diet, but also take into account many other moments. We are talking about the rules of stay in medicinal institutions, how to store products that can be, and what can not be brought to the hospital and so on. Proper nutrition child — This is an important element on the way to recovery.
But probably such an important topic could not appear from nowhere? When preparing this brochure, you relied on the experience of our charitable activities?

Undoubtedly. Tupperware - a high social responsibility company. We have been cooperating with medical institutions in Moscow and throughout Russia, providing comprehensive assistance. Tupperware® Constantly lists funds for the treatment of children, for the purchase of drugs and medical equipment. We are equipping the kitchen for mothers in children's hospitals — All kitchens are supplied with a complete set of products needed for cooking and serving and storing products.
If we talk about specific activities, we cooperate tightly with the children's charitable foundation «Nastya». The wards of this fund are treated in the Research Institute of Children's Oncology and Hematology RONTS RAMS. N. N. Blochina. Tupperware has been providing charitable assistance to the scientific and practical center of medical care to children with defects in the development of the cranial area and congenital diseases of the nervous system (NPC). The amounts that collect and transmits Tupperware® Measured seven-wing numbers. Last year, thanks to the efforts of our managers, consultants, distributors were rendered charitable assistance in the amount of more than 7.5 million. rubles. For us it is important.
In February of this year, to the International Day for the Fighting Children's Cancer to the Charitable Fund «Nastya» Listed 1.6 million. rubles. This amount was collected by Tupperware officers at charity events, which were passing winter business sessions and Tupperware Managers Congress®.
In 2012, the Moscow Center for Palliative Assistance Children lists 300,000 rubles for the purchase of drugs, medical equipment, consumables, medicinal nutrition, and everything is necessary for care for small patients. In 2013, the company equipped six kitchens for moms in the center of palliative care for children and also provided material charitable assistance, and we continue to do it.
Brochure «Proper nutrition for your child's health. Recommendations, recipes» Created exclusively by Tupperware®?

The idea of ​​the release of brochure belongs to Tupperware. Of course, we tried to attract as many experts as possible, so that moms get the most complete, competent information. First, a doctor of the Russian oncological scientific center for them took part in the creation of brochures. N. N. Blokhin and the Scientific and Practical Center for Medical Care Children with Vices for the Development of the Card-Facial region and congenital diseases of the nervous system. From them we received qualified recommendations for staying in the hospital, as well as advice on how to take care of the child after discharge. Secondly, selecting recipes, we used the advice of nutritionists. Nevertheless, I want to note that the entire information contained in the collection is a recommendatory nature. When it comes to a sick child, first of all it is necessary to follow the instructions of the attending physician. Our recommendations can be used. In addition, it preserves confidence and positive mood, which is important!
And still — What is the main goal of this brochure?
For us, the release of this publication — the ability to orient parents to stay in hospital. This is a meeting of recommendations that are especially important when entering the hospital. Parents and without it are worried about their children. May this brochure help them overcome all the difficulties quickly.
In the brochure, we offered the optimal menu, breakfast, lunch and dinners. Using professional Tupperware collections® Moms will prepare dishes that will delight their children. Prepare with Tupperware®! Be healthy and happy!