How to care for lying patients with infectious disease? Answer to this question you will find in the article.
Content
---
Patient care with infection
In carrying out the care of a person suffering from infectious diseases, you must comply with precautions in order not to infect pathogenic microorganisms. If the patient is a danger to others, it is placed in a specialized hospital, but with non-hazardous diseases, doctors recommend compliance with beddown and treatment at home. Many diseases caused by pathogenic microorganisms are accompanied by pronounced intoxication, which is manifested in the form of nausea, vomiting, dyspeptic disorders, weaknesses, migraegene-like headaches. With the defeat of the brain and the central nervous system, psyche disorders may appear in the patient. The peculiarity of infectious diseases is that the state of a person can change dramatically during the day. You must carefully watch your wards in order to notice the symptoms of disadvantaged.
According to the currently adopted classification, all bacterial and viral diseases are divided into intestinal (infection occurs through food and contact with a sick person), respiratory (transmitted air-droplets and affecting the organs of the respiratory system), blood infection (for example, malaria), and Also skin, in which the transfer of pathogenic microorganisms is transmitted when the epidermal surface and mucous membranes. Care for an infected person is to comply with elementary hygienic standards, the implementation of all procedures and manipulations appointed by the doctor. In addition, there are also specific rules concerning the prevention of infection.
Your ward must have separate dishes, which should be washed using special disinfecting agents. The patient must be placed in a separate room, after visiting which you need to carefully handle hands and face. Bed and underwear infected erase separately from other things or boil. If the patient has no allergies to disinfectants, twice a day spend cleaning in his room using the specified means. In order not to infect, before starting any manipulations and procedures, wear a sterile golk and gauze bandage, as well as a closed bathrobe. After completing all the necessary actions, releaving and wash your hands. With influenza and other viral diseases transmitted by air-drip, 2 times a day, injected yourself into the nose interferon or the drug of similar action. This Recommendation concerns all people living in the same apartment with sick. A good result also gives the use of oxoline ointment, im-munomodulators in combination with complex polyvitamins.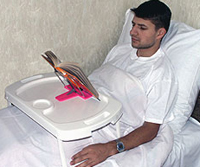 If the infection is manifested in the form of a skin pathology, change the patient's underwear 2-3 times a day, not forgetting to process the surface of the epidermis by the assigned physician tools. To prevent infection, before starting manipulations, wear disposable rubber or plastic gloves. Carry the room at least 2 times a day. In the summer you can leave the window open, it is desirable to avoid drafts and supercooling. If the patient has a high temperature, consult your doctor and take measures to reduce it. In feverish states, a strengthened sweating is often observed. Carefully watch your wards, do not forget to change his underwear when it becomes wet.
Bacterial and viral respiratory diseases are usually accompanied by an abundant department of mucus from nasal moves. Make sure that the patient's nose did not accumulate dense crusts that impede breathing. Several times a day, clean the respiratory tract with a cotton swab, moistened with sterile oil or a recommended medicine physician. Peaceful patient's lips can be lubricated with children's cream or pharmacy glycerin. If your ward complains of dry mouth, let's get a warm drink through a straw or tea spoons. With violations of consciousness, wet your lips and mouth with distilled water, a weak solution of furaticiline or saline. After consulting a doctor, you can use weak disinfectants (for example, hydrogen peroxide), which reduce the likelihood of stomatitis and gum diseases.
Great importance is the correct care of the patient's eyes. Most infectious diseases are accompanied by various pathologies of conjunctivations and mucous membranes of the upper and lower eyelids. To prevent serious complications, reduce the lighting in the room, close the windows with dense curtains. For regular washing eyes, use the disinfective and anti-inflammatory physicians assigned to the doctor, as well as ointment with antibiotics. Usually, with severe diseases, depending on the nature of the ailment and the degree of damage to the internal organs, a special diet is prescribed to the patient. The daily food diet should contain a sufficient amount of vitamins and easily durable nutrients; Salt and taste additives should be limited or eliminated. Under the ban most often turn out to be sharp, fried, very fat dishes (in order to prevent violations of the functioning of the digestive system). To improve the work of the kidneys, doctors recommend to give a sick more drink. In addition to ordinary water, offer your ward diluted fruit juices, compotes from berries and dried fruits, cranberry or brushing Morse. Healing herbs can only be used after consultation with a specialist.
To speed up the process of recovery from infectious disease, the patient may assign pharmacological agents with immunomodulatory action. Since such drugs are usually prescribed in small doses, make sure that not exceed the concentration specified in the recipe. Homeopathic medicines give drops or in the form of granules under the tongue.