The list of drugs that the doctor assignstreatment of intestinal infections, atopic dermatitis, food allergy, and disorders of the digestive tract, can stand and Atsipol. Why you need this drug? What is its composition and how to apply it? Answers to these questions readers of our site will receive from the article.
General information about the preparation
It belongs to a group of Atsipol probiotics - The so-called non-pathogenic to humansmicroorganisms having the ability to restore the normal microbial flora of the intestines and other organs. More members of this group devastating effect on pathogenic and conditionally pathogenic microbes. Positive "tenants" microflora authorities are now bifidobacteria, lactobacilli, pathogenic species Escherichia coli, enterokokkus, batsillus, yeast, lactic streptococci.
These microorganisms include composition and formulationsprobiotics group. Probiotics are contained not only in pharmaceutical preparations and in food products and dietary supplements. These beneficial foods are: yogurt, kefir, fermented baked milk, ricotta, yogurt, cheese. By combining fundamental knowledge of current research findings and new technology, scientists were able to receive capsules Atsipol. The basis medication became lactobacilli and Kefir fungus.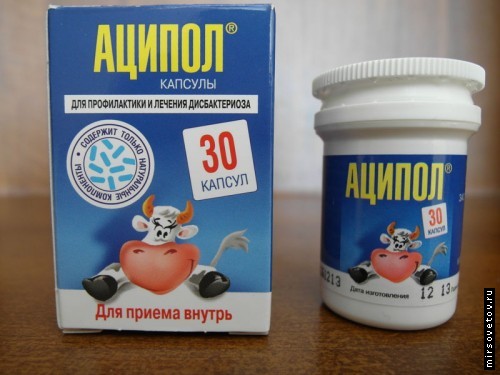 Atsipol - are small oblong cylindershaving a gelatin shell bright salmon color. Inside is poroshochek, color it kremovatym, and the smell is such that typical for fermented milk products. Available in ready-made capsules in opaque plastic jars or blisters on 30,20 or 10 pieces.
There were times when Atsipol released in the form oftablets and vials of freeze-dried product. But they are not produced since found that the capsules are more effective. They contain live bacteria tested stomach, and then delivered directly to the intestine where they are needed to improve human health. Therein lies their great advantage compared to the lyophilisate and tablets.
Thus, the active ingredients are AtsipolLactobacillus acidophilus (found in a living state), and polysaccharides, known since ancient times kefir grains. For the production of the drug first occurs cultivation of lactobacilli on nutrient media. Then they are dried using a special technology. lyophilization process allows the bacteria to remain in the living condition, but they are temporarily transferred to an inactive state. Once these bacteria becomes available water or milk, then about four hours returns activity thereto. Once inside the intestine, they colonize it, thereby eliminating the phenomenon dysbiosis.
Polysaccharides for this drug producedkefir fungi and remain in the medium. First Kefir fungus is grown and then subjected to inactivation to prevent further propagation. Next comes the lyophilization culture medium obtained. That is lyophilizate retains the substance, the fungus previously developed. It turns out an excellent nutrient substrate for the development and settlement of the intestines of normal microflora. This prevents goiter. In this case, polysaccharides kefir fungus can be called prebiotics, creating a favorable environment for the production and dispersal of acidophilus bacteria. Preparations containing in its structure both a prebiotic and probiotic medicine called synbiotics.
As additional (auxiliary) ingredients used in the manufacture of: gelatin, titanium dioxide and iron oxide red.
How does the medicine?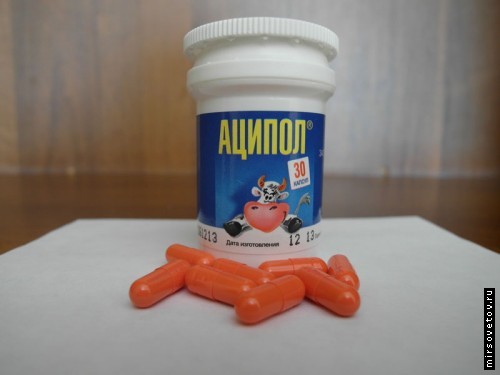 First of all, MirSovetov note that permitteduse of the capsule without damaging their integrity. In a jar (or cellular packaging) must also show no damage. Pay attention to the date of release of the drug, the expiration date. These data clearly indicated on the packaging. If the shelf life has expired, then it means that the good bacteria in the product have been killed, so the efficiency of means lost.
Capsule swallow whole, washed down immediatelyhalf cup water (boiled). For zapivaniya permitted to use yogurt, fermented baked milk. Moreover, the temperature of these products must be room. If the agent is assigned an infant or child, who still can not swallow a capsule, it is necessary to do so. First, the capsule should be opened, emptied its contents into a large spoon or measuring cup. Add to this poroshochku one or two teaspoons of water (or milk). Stir this mixture. Now, the resulting suspension can be given to your child. Best of all, if this medicine is taken by the patient for 30 minutes before eating. But infants and toddlers up to three years, this means you can give meals.
The dose and duration of use Atsipol determined by the physician. our site will lead only average figures:
Adults and kids over three years - capsule three or four times per day (preferably at regular time intervals).
Children from three months to three years should be given one capsule two or three times a day.
Typically, acute infections Atsipol used toOver 5-8 days, during which time the balance of microflora recovers quickly. In other cases, the duration of treatment may amount to 14-21 days, and sometimes even 3 months. If necessary, the doctor after 30 days of rest may take a second course of treatment.
Are there any contraindications to the use of?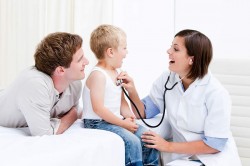 There were no adverse events in patients takingAtsipol, it was found. Pregnant women also can use Atsipol, its components are not harmful to any expectant mother or developing fetus. Contraindications may be only idiosyncrasy of components of the formulation.
Please note that the store this medicineshould at a temperature not higher than + 10 ° C. For correction of the intestinal microflora, the relief of diarrhea and normalization of stool and gas production process the drug can be purchased at a pharmacy without presenting a prescription. And it's better to consult a doctor before buying. With any other drugs Atsipol also compatible.