Learn from their mistakes in some cases only once. And sometimes none. Quick angioedema in the light of experience, the tragedies and triumphs of others.
Content
---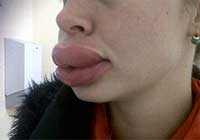 "If I knew,
where fall - I would podstelil straw. " This saying is often comes to mind when
some stupid, fatal error, oversight or negligence committed in the
Everyday life. The good news - you can begin to lay the straw now,
and if you or your family or friends ever happened fast swelling
Angioedema - this article is for you.
Angioedema - complications and errors
three stories

"My
adult daughter died in my arms. It was angioedema - its consequences
terrible. Her face was swollen, his breathing whistling altogether ceased on
call an ambulance failed to give instructions on how to cut the throat
right, so she could breathe. Learn how to cut his throat! "
this is what
and everyone is afraid of, prone to allergies. Choking with angioedema -
complication that many people do not leave a chance to stay alive. The tragedy of this
Mother does not describe in words, but we will try to analyze the situation.
Is it right
I entered the ambulance? Yes, right. Probably right. It may be correct.
It cut the throat of his daughter, this woman would almost certainly have caused her
serious injuries. It could lead to death from bleeding, and later
It proves anything it would be very difficult.
But
death still came.
Always
keep house antiallergic drugs for intravenous administration and
syringes. The medicine of the vials can be enjoyed if there is no one to make an injection, and at the same time
action is similar to taking pills. They can sting when intramuscularly
inability to give injections into the vein, is not always important to maintain sterility.
An abscess is treated much easier than life-threatening asthma.
See materials on dissection of the larynx. The Internet contains many instructions on carrying out
konikotomii - the safest and fastest way to cut the throat and get
air. In an extreme case, instead of the cut may buy time by
Injecting conventional needles in place for konikotomii - 10-20 large needles to inject
1-1.5 cm
can save lives and allow to wait for the ambulance.
"My
girlfriend was alone at home, she took the cure temperature and felt
redness of the face, fever and dyspnea. I called an ambulance, but the team to open the door
already there was no one "
If you are alone
home and feel a threat to their health - before the arrival of the emergency call for help
neighbors and ask them to come to you, open the locks on the door and lock it.
Perhaps, at the time of the arrival of the brigade that the girl was still alive.

"My
child ate potatoes, fried on a new variety of butter. After that
he is one swollen eyelid, rash (the doctor explained that the hives)
cough and shortness of breath. ambulance arrived, pricked
antiallergic drugs. However, two hours later, when it was night and all
went to bed, I woke up wheezing child who could barely breathe,
then we learned that such an intensive care unit. Angioedema and
the consequences are unpredictable! "
Very much
predictable. Are the doctors did an ambulance? No, wrong. The rapid
Angioedema can not be trusted. Who better than the doctors know that the absorption of food,
especially fat, it occurs gradually and slowly. That is why, after
Expiry antiallergic agents came second, more
severe allergy wave with suffocation.
be
alert! Make sure that the child is not in danger, be prepared to go
with him to the hospital after breathing disorders allergic episode, laziness
and perhaps it is not quite appropriate. Do not refuse gastric lavage. Give
effective sorbent child and watch him until the danger has passed.