Polyneuropathy is a dangerous ailment. It can be extremely unpleasant for men. Indeed, one of the types of this disease - diabetic polyneuropathy - can lead to impotence. You will learn about the relationship between erectile dysfunction and polyneuropathy from this article.
Content
Camoy common cause hormonal impotenceis ... Who said testosterone ?! Deuce! In 90% of cases of impotence caused by hormonal diabetes, leading to major changes in blood vessels and cavernous tissue of the penis.

This is a fairly common complication. Among young diabetics it occurs in each of the fourth, and after 50 years - more than half of the patients.

The patient, maintain normal blood sugar levelsblood, can avoid this complication. This requires strict adherence to a diet, maintaining a normal weight and, if necessary, several insulin injections a day. Complications of diabetes are irreversible, so everyone learned their diagnosis, should immediately begin treatment at the endocrinologist.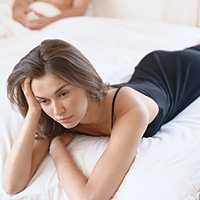 However, to say that the whole "blame" elevated blood sugar - is not entirely true.

Problems with potency in diabetes are also associated with damage to the peripheral nerves called diabetic polyneuropathy.

In addition to diabetic polyneuropathy, sexdifficulties in diabetes may be caused by angiopathy, i.e. artery occlusion, supplying the penis. It can be detected by means of special research vessels: an ultrasound or x-ray studies.
Problems with the potency of diabetes can be divided into three groups:
Ejaculation tarda - prolonged ejaculation leading tolong, debilitating sexual intercourse. In patients with diabetes, it is a manifestation of diabetic polyneuropathy and caused a decrease in the sensitivity of the glans penis.
Often there is a combination of all three symptoms.

The absence of ejaculation, orgasm when stored, is also a manifestation of neuropathy and is caused by a violation of the innervation and reflux semen into the bladder.

How to identify polyneuropathy?

Often, a violation of the sexual function,the first signs of a polyneuropathy. In the early stages polyneuropathy only complaint may be cold sensation in the penis head, that urologists called syndrome of cold glans.
Erectile dysfunction caused by polyneuropathy, and other symptoms are observed:
violation of the sensitivity (numbness, tingling sensation);
painless ulcers, burns, pressure sores, wounds;
amyotrophy;
pain in the legs at rest and at night, swelling of the feet.
No matter how serious the problem, do not despair. Early diagnosis of the disease and its correct treatment will make the illness retreat.