"All of us do not last forever," - a philosophical phraseusually they try to comfort people experiencing loss of loved ones. Such words or mind or heart. They are not at all easier. And the question is: "It is now live?" - For them is not idle.
Content
Help myself
---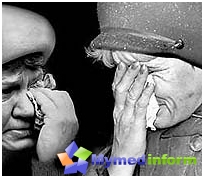 In the morning in a vise enough sadness and depression in the afternoongnaw memories, night foreboding heartaches and tears ... Who survived, he understands. Those who have not yet come across well "this cup will not pass" ... After leaving the life of the parents, other close relatives and friends, with whom shared joy and sorrow with which all life side by side ... Someone buries his children ...
Accept the loss? But how to do that? Is Time heals ?! And how long to wait for healing? These questions today we address the candidate of medical sciences, the assistant of the Department of Psychiatry and Addiction of the Belarusian Medical Academy of Postgraduate Education Evgeny V. Lasomu.
- Immediately after the news of the death of a loved onemany are experiencing numbness and shock, they simply can not believe in bad luck befell them: "The aircraft could not be broken, are you confused - this is not the flight, which flew my husband ..."
The death of loved ones - always a great sorrow. But, not having experienced this state, it is impossible to accept the fact of the loss. Feelings of people in such situations are about the same, but they each painted by tones that are inherent in the human person. It can be a longing, emptiness, a sense of meaninglessness of existence, guilt, anger, and in some cases - of shame (shame can be a way for the "maintenance" relative, for example, suicide).
Yet often it is the feeling of guilt: "Why did not save, not persuaded that there was a need surgery? Why I was not at home at the time when he (she) committed (a) a? Why I did not do what she asked for it? Considered all the whims and caprice ...? ". Variations on this theme set.
It is obvious that people's attitudes are always dual. Those whom we love, sometimes undeservedly offend. And swear to them, and put up. The hearts can say something very unpleasant, hurtful and evil, and then, remembering it, blame yourself, that these words have led to disaster. All this is usually far from the truth, but the experience of grief is not a critical attitude to the real evaluation of the past.
- It is not uncommon, when, after the death of loved onesExperiencing aggression towards others. For example, a woman who lost her son, can be such a reaction: "Why my child died, he is a good, intelligent, kind, and this monster that sat behind the wheel, was still alive?".
Often aggression on the part of relatives of the deceased face-resuscitation, doctors, cardiologists. Not surprising, because they are more likely to run the risk of "losing" their patients.
By expressing aggression, people unconsciously transform their guilt on another person. Blaming others - a convulsive attempt to change something. Of course, the vain ...
Experiencing grief, a person may fall into a deepdepression. The sense of loss and grief can be so great that some simply can not somehow be critical of his condition. Especially hard for those who survived the suicide of a loved one. After all, on the subject of suicide in society there is a certain taboo. The fact that someone in the family committed suicide, prefer to remain silent, not to discuss. At the same time a strong family feel guilty, which often do not even realize.
Everyone knows this saying, but not allunderstand its true meaning. The usual interpretation, they say, there was one problem, wait for subsequent misfortunes, prepare for the other tests ... In fact, "open the gates" - then let go of the pain, let it out, do not hold yourself. Open your heart to people - cry cry - the main thing is not to suppress the despair and pain, which can lead to serious illness and even death.

- Someone experiencing traumatic experiences,like putting on psychological blinders on the eyes: starts to committed dissolute life (before that it was unusual for him) - permanent sprees and drunken feast with companies from casual acquaintances, unrestrained frenzied fun, spending money in restaurants, nightclubs and casinos. Everything is done quite unconsciously. It was only in order not to leave with his head in painful memories.
Of course, the person needs to be on people, but ... communication must be confidential, emotional. All of the above - a surrogate, an escape from oneself, from one's emotions and grief. From grief it can not be protected if artificially try to forget everything. After all, "not worked" grief can occur after years of severe depression and, consequently, health problems.
Here is an example from my practice. My patient had lived with her husband for 40 years. People lived in what is called the soul of the soul, the family grew two beautiful sons, in the house of peace, love and prosperity. The woman was a housewife - was raising children, taking care of the family comfort. As the years passed, my husband became seriously ill. And after his "departure" from the widow had difficulty finding typical for this situation: she began to tolerate the symptoms of the disease died. My husband had cancer of the stomach, and she began to feel constant pain in the epigastric region. Repeatedly surveyed, but doctors found no serious pathology. In fact, her condition - masked depression, which made itself felt here in this way.
This is because the loss of her husband has not worked outit aloud. It is with anyone - even children - did not share his feelings. He said a word about their sadness and grief. The family did not encourage the development of negative emotions. Sadness, depression is always perceived as a sign of weakness. Raising two sons, the father was strict, and always said, "You - a man must endure." Therefore, their mother also did not show his emotions after the death of a spouse. In this situation, there is enough of a conversation and the patient saw a connection between the death of her husband and the state of his health, which was previously simply not be aware of.
- How to behave around a man survives the death of a close?
- It should always be possible, and the nextencourage the expression of emotions in those who are experiencing similar trouble. A person should speak out, to cry to someone. It is very important to feel cared for by friends, relatives. Experiencing grief, should not be afraid to show his feelings of guilt and his aggression.
If misfortune happens in the family, make sure youmust be contact between relatives. It is unacceptable that each kept to her grief. Even saying to each other some reproaches and accusations - is a plus. That at least some cooperation, if not entirely productive, but it protects people from the emptiness within himself, depression and fear.
- How long is the loss of experience?
- The rate is determined by the duration of the state and how it manifests itself. Seven to ten days a person is experiencing shock and numbness, but if it is delayed for a month or two - alarm.
In general, the reaction is continued burning of 6 to 12months. As part of our cultural tradition, it is believed that mourning for the deceased last year - and this period coincides with the psychological reassurance person.
However, a sense of the loss can behypertrophied - painfully exaggerated. Then a person experiences excessive guilt, which leads to self-punishment - hard drinking, avoiding social contact, even to attempt to commit suicide.
Someone refuses food, begins to lose weight,no longer look after themselves, "leaves" in intrusive memories of the deceased. Then there was nothing interesting and nothing can give pleasure. This is a deep depression, and then require hospitalization, medication and mandatory assistance psychotherapist.
Another pathological condition - excessiveaggression, the persistent pursuit of the one person considers to be guilty for the death of a close: the endless complaints to court with a request to open a criminal case to investigate the death, as is evident innocence "of the suspect."
- ... To survive the death of a child, if in addition it is the only ... What about the parents?
- The main value of human life, of course,his children, so the loss of even a specialist is not always able to provide effective assistance. Very often those who have lost a son or a daughter, fall into a state of utter hopelessness. Parents can be very strong sense of guilt. Here the basic care and close, and the therapist - very patiently listen to and very gently provoke manifestations of various emotions.
Consolation-type "will be another child," is notwork. Parents need to take and show all their emotions. Often they even unconsciously afraid of it, because they believe that some of their feelings, such as guilt or aggression, are prohibited. But in this situation, they are common to all. The main thing - to take the mountain to realize a loss, then it becomes easier.
- How often people experiencing bereavement, decided on an extreme measure - to withdraw from life?
- In the period of 6-12 months after the death of her husband orwife, suicide among widows and widowers occur in 2 times more often than among men who did not survive the death of a loved one. Men often take their own lives, they are also more likely to start drinking, get psychosomatic diseases - ulcer disease, hypertension.
- What not to bring themselves up to the last line?
- The majority of people to get out on their own, and they do not need some special care.
You should know that the guilt for the death of a loved oneand dear person - is universal and common to all people in a similar situation, it is impossible to survive without the mountain. But fully immersed in the feeling is not worth it. For example, if a man sat behind the wheel while intoxicated in a car accident and lost his family, his grief is most severe - wine here is obvious and therefore will not be superfluous to work with a therapist. It happens that a person lives with a heavy sense of guilt for many years, and not process them, and then commits suicide. With this sense of need to understand: what is the real fault and that attributed themselves beyond measure.
- Was it only gets easier from this?
- The person must determine the extent of his true guilt to get rid of the uncertainty.
To help, you can also imagine the realization that alltheir emotions must necessarily be, otherwise they will remain in and start to corrode. It is important to understand that the loss will still have to go through. It should not be left alone - go to people talk. If you feel a heavy oppressive state, and want to cry on and someone to talk to, it must be done, choose a suitable interlocutor.