What is giardiasis? Is it possible to treat giardiasis folk remedies? The answers to these questions can be found in the article.
Content
---
Lyablioz
Giardiasis - a giardia infection, occurring in the form of parazitonositelstva,
and as intestinal dysfunctions.
Pathogen - Lamblia intestinalis (Giardia Lamblia) - refers to the simplest.
There is in the form of vegetative and cystic forms. Vegetative forms parasitizing
in the small intestine, going down in a thick, form cysts, which are allocated
feces with the external environment.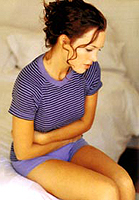 The source of infection is a person infested Giardia.
Giardia cysts are excreted in the feces and can be stored for a long time in foreign
environment. In the wet feces are stored up to 3 weeks, and water - up to 2 months, are resistant
chlorine (at a concentration of 1 mg / l cysts die only after 72 hours). ingestion
with water from a few to 10 cysts have lead to the development of infection in humans.
Most outbreaks of giardiasis is the nature of water. Broadcast
It can be carried out through food, where Giardia cysts remain
viability from 6 hours to 2 days. It is possible, and transmission from person to person.
This route of infection is particularly prevalent in preschool institutions,
where giardia infestation is much higher than among adults.
Giardiasis - a disease of dirty hands. Therefore, if you do not want your
children suffered giardiasis - accustom them to wash their hands often. Do gay men giardiasis can be transmitted sexually. The manifestations of giardiasis are largely due to the deterioration of fat absorption,
carbohydrates and vitamins. Giardia can not be the cause of severe liver disorders, holetsistoholangitov
(Caused by Giardia biliary dyskinesia contributes only accretions
secondary bacterial infection), lesions of the nervous system. Most of the infested giardiasis occurs without any symptoms.
The incubation period lasts up to 1 to 3 weeks. The disease may start
sharply, with the appearance of loose, watery stools without mucus and blood. Chair
malodor fat float on the surface of the impurity. There are pain
epigastric region. A large amount of gas, bloated intestines,
burp. There have loss of appetite,
nausea, vomiting may be, in some patients slightly increased temperature
body. This phase lasts 5-7 days giardiasis.
Most of the symptoms of the disease disappear spontaneously within 1-4 weeks
and the disease becomes chronic, which periodically appear
bloating, pain in the epigastric region, sometimes it can be liquefied
chair. Characteristic signs of deficiency of vitamins - pale skin, blue
under the eyes can be perleches in the corners of the mouth, allergic rashes.
The use of folk remedies in the treatment of giardiasis
at
treatment of giardiasis folk remedies is very important to follow a diet.
Giardia reproduce well in a sweet environment and feel bad
acid. Therefore, in the treatment of giardiasis it is important to eliminate the sweet, and food
acidify. For acidification every day to eat sour milk
products, meat (sausage not, namely meat).
It is useful to do tyubazh (washing procedure). Babies tyubazh
carried out with mineral water (eg, Essentuki №17).
When treatment giardiasis folk remedies used one of nizherekomendovannyh recipes:
Take the pulp of horseradish and garlic in equal proportions. Fourth
cup of the mixture add 0.5 liters of vodka, insist 10 days. Strain.
Take 1 tablespoon 2-3 times a day for 20 minutes before a meal,
diluted in a little water.
Helichrysum flowers, elecampane root, herb cinquefoil,
herb mint - equally. Preparation: 2 tablespoons spoon collection pour 0.5
l. boiling water, leave overnight in a thermos. Take 1 / 3-1 / 2 cup 3-4
times a day. The course of treatment - 1-2 months.
grass
Repeshko, celandine grass, birch buds, bumps alder, root
burnet, herb centaury - equally. Preparation: 2 tablespoons
spoon collection pour 0.5 liters of boiling water, leave overnight in a thermos. Accept
1 / 3-1 / 2 cup 3-4 times a day. The course of treatment - 1-2 months.
kidneys
birch, yarrow, celandine grass, dandelion root, grass
mint - equally. Preparation: 2 tablespoons collection pour 0.5 liters
boiling water, leave overnight in a thermos. Take 1 / 3-1 / 2 cup 3-4
times a day. The course of treatment - 1-2 months.
For children is recommended to prepare infusions and decoctions of the following daily dose
collecting dry medication:. to 1 year - 1.2 - 1 tsp, 1 to 3 years - 1 hr.
spoon, 3 to 6 years - 1 teaspoon, from 6 to 10 years - 1 tbsp. spoon over
10 years and adults - 2 tbsp. spoon collection.
Gathering herbs can be used in combination with other drugs.
Before you take this or that collection, it is desirable to get acquainted with contraindications
to herbs, which is part of the collection in Travnik.
Before using a recipe, consult with a specialist.