Harmoniously develop children want all parents. But how to choose the sports section of a circle or a child? On what parameters to focus on what to pay attention?
Content
---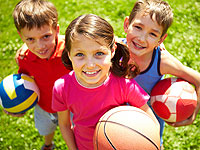 First of all we will focus on schoolchildren. If you grows three to four baby, assess whether he needs fiznagruzki addition to kindergarten. Typically, a child in the garden enough exercise classes, walking and running around in their spare time. If you see that my daughter tends to dance to any music, but the boy can not tired to kick the ball or ride a skate, it makes sense to try a dance class for the first and the football or hockey club for the second.
Be attentive to your child: the first two or three sessions will show whether the load is not excessive, as the baby like a class. The main principle - to go beyond the interests of the child. From the fact that your princess is with tears twice a week to go to the hated choreography, no good would come but a lifelong resentment toward their parents.
In general, if your preschooler a lot of walking, notshows a clear tendency to any sport, if you are happy to spend the weekend at the winter skiing or summer family velopokatushki joint, special sports section of the child does not need. Wait for the first class.
What are sports clubs and sections?

School section. Each school offers a choice of several options for sports load. It can be sports dance and choreography, football, basketball and other outdoor games, fighting or GPP (general physical training). Choose simple: you can talk to the parents of those children who already go to the section, to communicate with the teacher, ask to see the lesson. Plus, many of these lessons: do not need to go anywhere, clubs are free or very inexpensive, teacher values ​​its reputation and is trying to meet the expectations of their parents.

City and district (state) youthsports clubs. Another category of reliable and high-quality employment. The situation can be "scoop" - the simple and artless, but the professionalism of the teachers and the love of children usually at a height. Pros: low price, convenient geographical location (at least regional) and a large selection of sports.

Classes at the fitness clubs. Not only adults can do fitness. Major sports clubs and take into account the needs of young visitors. For children and offers yoga classes on fitball, gymnastics and rhythmic. The fitness clubs usually have a game room and dry pools, toys and teacher on duty, so that the child will not be bored while you complete shopingovogo sprint or personal training. Pros: interesting and unusual classes "as adults." The downside may not be the lowest cost subscription.

Sports schools and highly specializedsports clubs. Suitable for those who intend to seriously engage in sports. This work is the result, participation in competitions and life subordinate sport. In such places, they work real professionals, fans of the business, which after a child four skins, but will help to achieve the visible success. Before you take the child in such an institution, decide whether you're willing to put a part of his life, and almost all the children in the professional sport? Does this child? Does he understand that will have three or four times a week all out in training and actively engage in general physical training every other day?
Select the type of training

Look at a child's character. If it splashes of energy needed active sport: running, outdoor sports, tennis. If he kept competing, offer individual or team sports with obvious competitive aspect: volleyball, football, basketball, swimming, dance sport, martial arts. If the child is like beauty and aesthetics, it will suit ballroom dancing or choreography. Calm and phlegmatic child more will have to taste water aerobics, ping pong or nenapryazhny tourism.

After the first two or three weeks of classes to votethe degree of stress. Perhaps the active sport twice a week, you need to balance artistic or robotehnicheskim circle. Or maybe your particular child too hard to deal with three times for two hours. Before a child circle should have time to relax, and it is desirable in the peace and quiet of your own room, not in the noise and Ore in its class.

Sports section - another place where the childtalking, learning to interact with others. Ask, how was employment, if the baby has good friends, whether he likes the group and the teacher. Love for the sport depends on the environment in which classes take place.