Often ill children - children who under 3 years old get cold more than 6 times a year, and after 3 years - more than 4 times a year. How to help your child to move without pain this disease?
Content
---
Instruments that should be in every home
It is no secret that young children get sick more often adults. Children
infected with an average of 6 times a year From at least two hundred different
viruses. Such infections can not lead to complications, they
Conversely train the immune system of the child, giving the necessary supplies health
for a lifetime, help him in the future to quickly handle most
cold viruses, practically no symptoms or complications.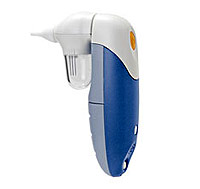 But
children are ill, and to recognize how much we loved and were given no
full education, courting his child, spend a week with
sick child, which expires snot, crying, and naughty
all suffering, not a holiday, even the most fanatical
parents.
Many doctors believe that to treat a runny nose is not necessary,
runny nose - is a natural reaction of the body, it helps to cope with
virus or bacterium. But to help the child without pain and with a minimum of
inconvenience to transfer this disease should be mandatory.
To help the child breath before going to bed he
It can suck the mucus specially designed nasal
aspirator, Sales there are many different rubber aspirators,
they look like little klizmochki. But advanced parents know
and that there are electronic analogs of these instruments. Electric compressor suction for B.Well WC-150 nose
It is conveniently lies in the hand of a portable device with a low
compressor and interchangeable nozzles for nozzles of different sizes.
Compressor suction - a novelty in the Russian market of children
products. Portable aspirator B.Well WC-150 is very easy to
use aspirator tips are made of high-quality
soft silicone, pleasant to the touch and does not irritate
nasal mucosa. In memory incorporated aspirator 12 known children
melodies that can distract a child from such a delicate
procedures like nose cleansing. After removal of the nasal mucus flagged
a special tank that can be easily removed and washed immediately
under hot water. The equipment for the nose present aspirator
bag for storage and a handy strap for fastening on the hand.
In general, the instrument is designed specifically to help
parents to alleviate the condition of the child, free stuffy nose and give
him to calm down. It is important to remember that the abuse of such
kind of procedures should not be: clean the baby's nose should be occasionally when
it can not sleep or rest due to the presence of mucus in the nose can not
fully breathe. In other cases it is better to nose during illness
the child was moistened natural secretions, and in fact they
are protected his swollen mucosa. Permanent complete their removal
can cause the opposite effect: it even more drying up, and how
consequence of swelling.
It is also recommended to wash the nose with a cold
child. Washing is best done by special children's drops, but
normal saline and fit, which are easy to prepare in
home, using ordinary salt water and boiled in
the ratio of 1 teaspoon of salt per liter of water. It is necessary to instill
a few drops of the time, for a few days with intervals
1 times per hour.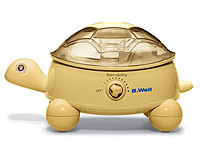 Excessive
the amount of saline solution or nasal lavage child through klizmochku
can damage - penetrate in the nasopharynx and eustachian tube
cause inflammation in the middle ear (otitis media).
Very important is the comfortable environment in the nursery.
Humidity should be increased, the temperature is even slightly
cool. This is all done to mucus in the nose and throat of the child
I did not dry up, and, as a consequence, does not irritate the skin. The best option
- Use a humidifier. There moisturizers
designed specifically for children, such as ultrasonic humidifier air B.Well WH-100 "Turtle".
This modern, silent unit executed as a bug, it has
a dim, night lighting and is perfect for a child's room.
Design Humidifier WH-100 combines the immediacy of toys and
High-tech line of reliable, modern appliance.
Often the common cold in a child climbs
temperature. Parent is important to control the temperature, that is fast
and accurately measure it and not allow it to rise too
high. This simple process, which we tested a thousand times on itself,
It may be not so fast and nehlopotlivym as it seems.
Try to put your child for 3 minutes with a thermometer
armpit and let the try, so it does not fallen. For measuring
body temperature in infants and young children on the market there are a few
thermometers models specifically created forthis: a special children's nipple thermometer Microlife MT-1751, which is invisible to the child and measure his temperature readings will flash on the display. Also sold Infrared Forehead Thermometer B.Well WF-2000.
Infrared Thermometer B.Well for 2-3 seconds is able to measure
body temperature, although it is not essential that the measure he would do well
measuring the air temperature in the nursery or the water temperature
bath.
The most important and right that can make
parent when the child is healthy - is to create all the conditions for
to the child's body in a natural way overcame cold.
Then your child will shine health again.