Fight with pigment spots can and should be. But not all people agree on the procedures offered in beauty salons - out of fear or "expensive". Proposed in this paper recipes and tips to help you cope with this problem at home and inexpensively.
Content
---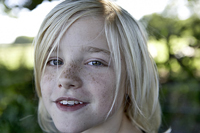 The pigmentation of the skin is often the onlyaesthetic problem. Although the spot - this is just an attempt of the body to protect itself from sunlight excessive production of melanin. The spots vary in color from dark yellow to dark brown and are usually located on areas of skin exposed to prolonged sun exposure: usually face and decollete area and hands. The probability of occurrence of these spots higher in people with fair skin and depends on the number of hours spent in the bright sunshine: Pigment spots often occur even in young people after a holiday in the south.
In some cases, unsafe spots: such as chloasma, large spots on the face, are due to a failure of female sex hormones (so there are only women). Sometimes even such pigmentation occurs during pregnancy and taking certain contraceptives.
Why still appear dark spots?
Because of the makeup of questionable quality.
Some drugs.
When women's diseases, disorders of the thyroid gland.
There are post-traumatic spots - they appear after squeezing blackheads, cauterization, etc...
Essential oils can play an insidious role and increase the skin's sensitivity to sunlight. Result - fotodermatit.
Despite the fact that pigment stains asGenerally, do not threaten health, their presence, especially on the face, it makes a person feel uncomfortable. Large spots, usually occurring after the wrong tanning, are a problem even for young people.
Chloasma accumulate in the surface layer of the skin,they are not accompanied by any unpleasant sensations, surface stains smooth and does not peel off, so lighten them much more easily than, for example, freckles or liver spots.
Typically, removal of pigmented spots usingcryotherapy, acid leaching, whitening, phototherapy, low-energy pulse or traditional laser therapy. Quite often, these methods can achieve only partial results, but the effect of the treatment lasts long.
With a systematic long-term care can beachieve satisfactory results by using home herbal medicines, has a gentle exfoliating properties and bleach.
Cucumber Whitening Mask: napkins, smochennnye fresh juice of cucumber, put on the face as a mask, or chloasma, repeating the procedure three times every 10 minutes. Treatment daily, to get the effect. Then the supporting procedure 2 times a week throughout the season. When dry skin of cucumber pulp is mixed with a nutrient cream (2: 1) and applied to the face every day for 30 - 40 minutes. The remains of the mask is removed with a cotton swab. For oily skin finely chopped cucumber fill a week with vodka (1: 1). Then strain and use every day. The wetted gauze or linen cloth lightly squeeze and applied three times for 5 minutes. Use the tincture of the skin and wiping. but this procedure must be repeated 3 - 5 times a day.
Lemon mask: one lemon finely chop, pour 100 grams of 40-degree vodka and let infuse for 6 - 10 days. Then strain the infusion. On cleansed skin apply a thin layer of cotton wool and drench it received liquid. Hold the mask 15 - 20 minutes. If some parts of wool dries, you have to moisten it again. After the procedure, remove the cotton wool, but not to wash off the mask.
Pergidrolevaya yeast mask: 0.5 g of dry yeast or brewer 5 g mixed with 10 grams of 3-percent hydrogen peroxide and add 5 grams of ammonia. This tool is very rich in vitamin B and help solve some of the problems of youthful skin.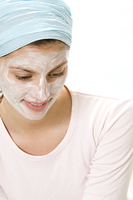 Pergidrolevaya citric: take 1/4 cup of vinegar, 15 g of 40-degree vodka and 15 g of 3-percent hydrogen peroxide. Squeeze the juice of two lemons. Mix all of the ingredients and pour 1 g of salicylic acid. Take a piece of gauze to cut holes in it for eyes, nose and mouth, wet it in the prepared liquid, gently squeeze to juice does not flow into the eye, and straightening, apply on face and neck.
Take the hard-boiled eggs, remove the yolks. Putting yolk on a metal mesh or putting it on the fork or spoke, to keep the spark of fire. From the heated yolk drip "juice" - it should be collected as soon as a drop occurs, immediately substitute a cup. Then again warm yolk. Collect "oil" thickly greased gauze or cloth and put it on the damaged area of ​​skin, bandage. I did not more often than once a day or once in two days. To bandage does not absorb oil, put cellophane.
Mix a tablespoon of lemon juice andvinegar and add two teaspoons of boiling water. Such a mixture is rubbed face daily. If the skin is dry, add to the mix a teaspoon of vegetable oil.
It is also good to wipe the skin with a piece of lemon, cucumber, yogurt, sour milk, and after a wash or wipe the face lotion and powder.
Whisk the egg whites and mix it with the juice of one lemon, add 100 g of cologne and 1 tablespoon of glycerin. This lotion, wipe the face before going to bed.
One hundred grams of nucleoli pitted cherries and crushedpour 0.5 liters of olive or sunflower oil. Infuse for two weeks in a dark place, drain, squeezing through several layers of cheesecloth. Wipe face.
The mask of watermelon. The flesh of watermelon to grind and apply on face for 10-15 minutes. Dry skin with pigment spots before applying the mask to wipe olive or corn oil and make a hot compress for 5-7 minutes (moisten a towel in hot water, which is added soda, 1 teaspoon per 1 liter). A hot compress can be made from the infusion of chamomile.
If freckles and age spots to wipe the skin grapefruit juice or pulp.
A decoction of melon pulp is used in folk medicine for removing age spots on the face.
Spring juice obtained from the stem notchbirch, moisturize the pigmented areas of the skin, not wiping, 4 - 5 times a day. Procedures daily, to get the effect. This method is used in nemnogochislennnyh and mild pigmented freckles. The juice is stored in a tightly sealed container in a cool place.
Suitable infusion of black elderberry flowers (1:10). Napkins made of several layers of gauze soak in a warm solution, slightly wring out and put on face as a mask (with common freckles) or chloasma area. The procedure was repeated 5 - 6 times every 5 minutes. Treatment is administered daily to obtain the effect, and then make the procedure less, 1 - 2 times a week. If chloasma treatment period is extended considerably.
Sarepta mustard powder is poured warm water,stir until the consistency of gruel and smeared spots (for oily and normal skin) until the burning sensation, then rinsed and wiped dry. Procedures for daily or every other day, up to 10 per course. Do not use them in vasodilatation and excessive facial pilosis women.
Juice from fresh strawberries moistened clothand put it on three consecutive 10 minutes daily during the strawberry season. Less effective wiping stains juice to 4 - 5 times a day. This method is best used for small and mild pigmented freckles. It is possible to make a mask of 3 minutes strawberry pulp with egg yolk (for dry and normal skin) or protein (for oily skin) in the ratio 1: 1. You can use strawberries.
Cloth dampened with fresh fruit juice viburnum,is applied to areas of pigmentation twice in a row for 10 minutes every day to get the effect. It should refrain from the use in dry skin. With a deficit of juice made daily by 30 minutes mask from the juice of berries mixed with egg white (1: 1) or with cream for all skin types.
Wipes impregnated with the juice of sauerkraut, slightly wring out and put on the dark spots three times in a row for 10 minutes daily.
Milky juice of fresh dandelion (leaf), carefully lubricated freckles 2 - 3 times, and chloasma - 4 - 5 times a day before noticeable blanching.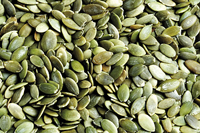 Raw pumpkin seeds are cleaned from ordinarythick skin, carefully ground in a mortar with an equal amount of water and the resulting milk was mixed with honey (2: 1). The mask is applied for 30 minutes every day to obtain the effect.
Grated horseradish pour vinegar (1:5) and insist in a dark tightly sealed container for a week. After filtered and then diluted with water (1: 1). Cloth soaked infusion and slightly pressed, put on oily or normal skin for 5 minutes (with freckles) or 10 minutes (at chloasma) daily or every other day, depending on tolerability. You can restrict the rub pigmented skin three times a day, but this method is less effective.
Fresh juice of celandine herbs smeared chloasmadaily two times a day. You can use tincture of dried herbs with vodka (1: 5). Wipes impregnated with it and lightly pressed, superimposed exactly on the spots on the area of ​​15 - 20 minutes daily.
Recipes, as you can see, weight. Optionally, to treat only one drug. They can be combined sequentially changing during the course. It is appropriate to recall once again that any whitening and exfoliating agents should not be used around the eyes. It should also make the procedure before going out.
The main enemy of the skin - it's sunlight. Often parents try to have their children as long as possible in the sun. But we should not forget that the main dose of harmful solar radiation (60-80%), we get up to 18 years. It accumulates in the body and then, through the years, makes itself felt in the form of irreversible changes in the skin, various pigment spots, and even cancer.
People who have to sort of activityconstantly be on the street, such as agricultural workers, in the summer, wear headgear and, where possible, wear clothes that cover the neck and hands. The most unfavorable time spent in open space - from 11 to 17 hours. Do not get involved and so fashionable in our time solariums.
Determine the type of skin disease can only be a qualified dermatologist, so do not solve the problem of age spots entirely cosmetic.
Proceeding from the above, beforetry on their own to get rid of hyperpigmentation (using the above-mentioned lactic acid, protein-lemon, yeast mask -protsentnaya 3% hydrogen peroxide, some red berries), it is better to consult a specialist beforehand and entrust such a responsible business professionals as well as self, likely to nothing lead, and in the worst case, will only aggravate the situation if for example, for the innocent at first glance, chloasma hiding a serious liver disease.