In Russia, pain in the back and neck are affected from 44 to80% of adults. In most cases, non-steroidal antiinflammatory drugs (NSAIDs) are used for back pain. But the use of high doses of NSAIDs is fraught with side effects. Reduce the number may be using ointments or gels based on diclofenac.
Content
---
Anti-inflammatory gel at backache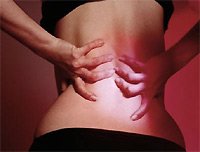 According to statistics, back pain - thirdcommon problems which patients seek medical attention. In Russian back pain and suffering from neck 44 to 80% of adults. And 18% of the pain is chronic and is often combined with a headache and pain in the chest.
The reasons due to which pain can occur inback, quite a lot. The reason for that may be, and damage to the nervous system and diseases of the spine or muscles, and internal organs pathology chest, abdomen or pelvis. However, in 60-90% of cases of back pain due to degenerative changes in the spine.
There are two main types of back pain: acute and chronic. The main causes of acute pain - Musculoskeletal changes are associated with stretching, micro-traumas, excessive overload muscles, ligaments or spinal joints.
However, more frequent nagging, nagging pain,which is amplified, then it subsides. This chronic pain, which, despite the unspoken nature can seriously reduce the quality of life, cause serious discomfort, depression, and eventually lead to disability. Therefore it is extremely important not only to properly diagnose and select a competent tactics of treatment of the underlying disease, but also to eliminate pain in the early stages.
What can help?
In most cases when the typical backacheused nonsteroidal anti-inflammatory drugs (NSAIDs): ibuprofen, diclofenac, ketoprofen. These products eliminate the inflammation and relieve the pain, that is, act in two directions.
However, it should be noted that the use of largedoses of NSAIDs is fraught with side effects: the patient can worsen chronic gastritis, open bleeding or peptic ulcer disease. To avoid such manifestations as possible, using ointments or gels based on diclofenac.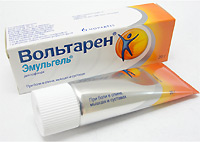 Well established itself on the global drug market Voltaren® Emulgel®. Unlike traditional form of ointments and gelsemulgel quickly absorbed from the skin surface and penetrates directly to the source of pain and inflammation, arresting discomfort. When applying the drug directly to the sore point, the active substance (diclofenac) immediately comes to damage and begins to act quickly. Already after a few minutes you will feel that the pain recedes.
Emulgel no less effective than the tablets, butlikelihood of complications is significantly lower because the diclofenac concentration in plasma after application of formulation is about 100 times lower than after ingestion of tablets.
This feature emulgelya It allows you to combine tablet and means of localapplication to achieve substantial and rapid results, but without the risk of overdose. This is confirmed by clinical studies and the experience of Russian and foreign specialists. The high level of efficiency and safety in use helped win emulgelya quite popular with a wide range of consumers.