For residents of Kuntsevo district in the West of Moscowthis question is no longer worth it! On May 23, 2011 at Molodezhnaya (Yartsevskaya St.), a new multidisciplinary clinic was opened, which is part of the SM-Clinic medical holding.
Content
---

For residents of Kuntsevo district in the West of Moscowthis question is no longer worth it! On May 23, 2011 at Molodezhnaya (Yartsevskaya St.), a new multidisciplinary clinic was opened, which is part of the SM-Clinic medical holding.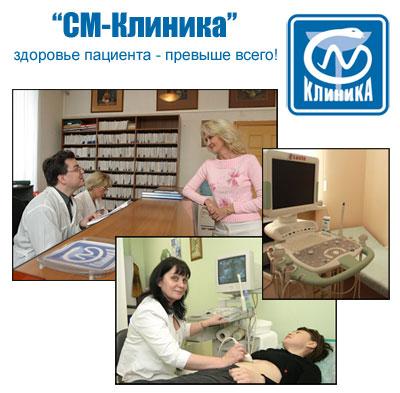 Over 9 years of operation Medical Holding"SM-Clinic" we have assembled a great team of doctors have accumulated a unique experience in the sphere of medical-diagnostic process and gladly invite you to yourself to make sure of our professionalism and the highest caliber.
"SM-Clinic" on the street. Yartsevskaya (m. Youth) is the seventh medical clinic opened in Moscow.
"SM-Clinic" on the street Yartsevskaya is a modern multidisciplinary medical center. He provides a wide range of medical services in such areas as obstetrics, gynecology, urology, surgery, traumatology and orthopedics, pulmonology, proctology, nephrology. Reception is also conducted by an allergist-immunologist, dermatologist-venereologist, phlebologist, neurologist. Strong specialists represented cardiology, rheumatology, endocrinology, otolaryngology, therapy.
Functional diagnostics
Functional diagnostics includes all types ofModern research hardware. It is possible to perform ultrasound examinations at home, that under certain conditions the patient is not only desirable, but necessary. In addition, our clinic is ready to carry out a set of diagnostic services for preventive and periodic medical examinations.
The "SM-Clinic" we are ready to Yartsevskayaprovide a wide range of outpatient minimally invasive surgical procedures. The most advanced equipment, instruments and suture materials can significantly improve the cosmetic effect and immediate and late results of operations.
obstetrics and gynecology
Integrated Management of Pregnancy - one of thethe priorities of our clinic. We carry out a full cycle of monitoring the development of the fetus and the state of the expectant mother. It may take us a course of diagnosis (both hardware and laboratory), and observed the entire period of pregnancy in one doctor. It is important also that in pregnancy a woman can prepare in advance to exclude or having treated gynecological pathology in our gynecology department.
program designed for our patientsget rid of infertility, treatment of sexually transmitted infections, pathology correction in the reproductive sphere (eg, restoration of patency of the fallopian tubes). In addition, we can carry out surgical treatment of almost any gynecological pathology in other clinics holding.
Urology
If we consider such a direction asurology, our doctors are ready to provide the most modern and efficient care across the spectrum of issues that profile. We treat prostatitis (including chronic), prostate adenoma, pyelonephritis, urethritis, cystitis, orchitis, epididymitis, chlamydia, ureaplasmosis, genital herpes, cytomegalovirus, human papillomavirus. It offers patients the latest techniques of correction of erectile dysfunction, premature ejaculation, treatment vesiculitis (inflammation of the seminal vesicles). It must be said that often the problem is obschesemeyny character, so we have a program of treatment of urogenital system of both partners: the couple infertility, genital infections with the use of the latest pharmacological and technological developments.
Cardiology
In the "SM-Clinic" on the street Yartsevo cardiological care for patients is presented at the highest level. Experienced doctors will help solve heart problems such as arterial hypertension (hypertension, symptomatic hypertension, hypertensive crisis), which are alarming "bells and whistles" of possible strokes and heart attacks. We effectively treat arterial hypotension, vegetovascular dystonia, atherosclerosis, coronary heart disease, cardiomyopathy, cardiosclerosis, myocarditis, heart failure, heart defects - both congenital and acquired, various types of arrhythmias. It is possible to conduct a wide examination of the heart using ECG, echocardiography, and other diagnostic methods.
Endocrinology
Speaking of endocrinology, bydiseases of the endocrine glands include obesity, metabolic syndrome, osteoporosis, adrenal disease, diabetes and other diseases. In our endocrinology department can undergo a complete diagnosis and successfully treat most diseases, to develop the best and sparing scheme maintenance treatment of chronic diseases. In addition, our specialists can help patients with overweight restore normal hormonal metabolism and correctly and safely fight obesity.
Rheumatology
Division of Rheumatology has fareach medical clinic. Our department of rheumatology provides a full range of diagnostic and therapeutic services for a Multi arthritis, connective tissue diseases, gout, fibromyalgia, osteoporosis and other common diseases of the musculoskeletal system.
We treat such complex systemic diseases, such aspolymyositis, rheumatoid arthritis, systemic lupus erythematosus, Reiter's syndrome. For people suffering from these diseases right treatment - is the difference between the daily existence of constant pain and anguish, and the ability to lead a full and active life even. And we can offer this effective treatment is in the "CM-clinic" on the street. Yartsevskaya!
Otolaryngology
As for the otolaryngology, here we tooWe offer a variety of treatment programs ENT diseases:. sinusitis, acute rhinitis, sinusitis, etc. High-quality comprehensive examination and effective therapy with the use of multi-ENT-combine with the possibilities of video endoscopy allow to achieve a stable result of treatment.
Allergy-Immunology
Doctor allergist-immunologist treats not only the different types of allergies (as many think far from medicine people), but also deals with problems of immune correction.
Phlebology
Very often people do not know to what doctorturn to when experiencing "lead" heaviness, swelling, squeezing or throbbing pain in the legs. And they need an experienced vascular surgeon doctor or phlebologist. And in the SM-Clinic on a Youth Specialist takes! Our doctors have much experience of conservative and surgical treatment of cardiovascular pathologies. Sometimes the problem has an adjacent character, and then the patient should consult a neurologist. It is advisable to visit the specialist and those who complain of headaches, discomfort in the neck, neck, sacral, lumbar and spine as a whole. After the headache may be the leading (and sometimes only!) Complaint at more than 45 diseases, including serious, such as hypertension, arterial hypertension, diseases of the nervous system.
Multidisciplinary Medical and Diagnostic Center"SM-Clinic" on the street. Yartsevskaya traditionally offers the widest range of diagnostic tests and provides the opportunity to receive advice more than 30 professionals.
For your convenience, we work from 9 am to 22 pm- Seven days a week! A properly functioning system for all-day appointment phone (495) 777-48-49, as well as via the Internet allows anyone to get to a specialist without the hassle and long hours of queuing.
Opening the new clinic, we have tried to makeall for the convenience and comfort of our future patients. We are sure you will appreciate the wide range of medical services offered, the highest qualification of our doctors, care medical staff and cozy atmosphere of our clinic.
We are waiting for you at:
Ul. Yartsevskaya, etc. 8.