The crown itself is a prosthesis, which, being on a damaged tooth, fully restores its appearance and shape, and also allows you to use this tooth as a healthy. What are the crowns?
Content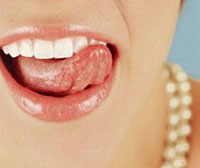 The crown can not only serve as a support for a bridge prosthesis. She is designed to perform some more important functions. Firstly, it itself is a prosthesis, which, being comes on a damaged tooth, fully restores his appearance and shape, and also allows you to use this tooth as healthy. In addition to restoring a damaged tooth (and the function of the support has already considered «Bridge») The crown has other tasks:
protection of a weakened or split tooth from further destruction;
correction of irregular shape and broken tooth coloring;
Strengthening the remaining part of the tooth (if it cannot be achieved by sealing).
Materials for the manufacture of crowns are metals and their alloys (including steel, gold, and so on), composite or acrylic polymers, porcelain, and also combinations of these materials. If the metal frame is lined with composite material, then such crowns have several advantages. Composite material is easier and consistency closer to a solid tissue of a natural tooth. At the same time, it is quite solid, but looks no worse than porcelain.
Prosthetics with metal ceramic crowns
Metal-ceramic call those crowns that are made of ceramics and metal. For the manufacture of metal-ceramic crowns, the dental technician first manufactures a metal frame, then a ceramics is macked on a metal frame. Therefore, metal-ceramic crowns have an external natural view.
Metal-ceramic crowns are restored by the front and rear teeth. You can restore the front teeth because they have a natural appearance. You can restore the rear teeth because they have high strength and withstand a large pressure resulting from chewing. Metal ceramic crowns with good accuracy adjacent to the teeth.
The disadvantages of metal-ceramic crowns are that although they have a good appearance, but in cosmetic terms they are inferior to all-ceramic crowns. T.To. Metal ceramic crowns contain ceramics, it can be broken and breaking. A significant disadvantage of metal-ceramic crowns is that they strongly wear the opposite tooth with which they are closed when chewing, boning.
Prosthetics by all-tempered crowns
All-tempered (non-free ceramics) are called those crowns that are made only from ceramics, there are no metallic frame in these crowns. Motoless ceramic crowns correspond to the color of the teeth, which is their main advantage, they are ideal in cosmetic, aesthetic terms.
Domestic ceramic crowns have transparency, but in terms of strength they are inferior to metal ceramic crowns. From this point of view, non-remote ceramic crowns are used to restore the front teeth, T.To. They possess natural appearance, and chewing load on the front teeth is less. Excellent ceramic crowns you can achieve accurate fit.
Domestic ceramic crowns are not recommended for restoring rear teeth, t.To. Chewing load on the rear teeth more. When exposed to chewing loads, they can be broken, break. They are rapidly wear out.
Prosthetics by all-metal crowns
All-metal names are called those crowns that are made only from metal. An ideal metal for all-metal crowns is gold.
Today it is believed that golden crowns are well withstanding chewing pressure, they do not form chips, they are very rarely broken, from all types of dental crowns, gold are considered the most durable. It is believed that gold crowns can be achieved accurate fit to the teuba. Golden crowns usually restore the rear teeth, t.To. From the cosmetic side, they are not aesthetic, do not possess natural appearance. Golden crowns wear out at about the same speed as natural teeth, so the golden crown does not cause excessive wear of the opposite tooth, with which it is closed when biting, chewing.
The purpose of prosthetics is a functional and aesthetic replacement of solid teeth tissues, lost as a result of caries or other lesions.
Aesthetics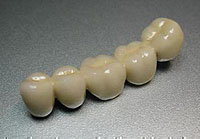 Under the term «aesthetics» It is understood to reproduce or optimize a natural tooth in shape and visual characteristics. These considerations, in addition to functional, are the main for most patients. Currently, ceramics - the only available material that allows you to imitate natural solid tooth tissue. At the same time, due to its extremely low corrosion coefficient, ceramics is biologically harmless, does not cause allergic reactions, it allows you to achieve a good functional and aesthetic result.
Domestic ceramic systems - the newest achievement in modern dental practice. With the help of non-remote ceramics, you can make crowns, tabs, veneers, providing excellent aesthetics.
The advantages of metallic ceramics (no metal) in front of traditional metal ceramic systems:
Stunning aesthetic properties. Recreation «Living» Colors crowns.

Missless crowns have a natural color.

One of the most important properties of the enamel of the tooth - transparency. This transparency enamel gives the teeth a characteristic appearance. In the restoration of teeth, metal-ceramic crowns are not provided transparency.

With metal-ceramic crowns, the rays of light can not penetrate the dentals deeply, metal-ceramic crowns do not provide complete similarities with natural tooth, but only improve the appearance of the tooth.

On a non-remote ceramic crown there is no dark strip on the border of the gum and kork, t.To. There is no metallic frame in metallic ceramics.

Motless ceramic crown has the perfect edge fit.

No irritation of the gums
Temporary crowns in prosthetics
Temporary plastic crowns are used in prosthetics of teeth for the period of manufacture of permanent crowns or bridges. Although, they are temporary, but their functional value is very important. You can not ignore this stage of prosthetics.
Temporary crowns are used:
To prevent a possible pain reaction, when the support teeth are gaining live (without nerve removal).
To prevent the grade gums when the support teeth are sharpened with ledge.
To prevent displacement of the prepared teeth.
And finally, aesthetic aspect. Probably, no one wants to show your turning teeth to others.
Temporary crowns are made of plastics. To date, there are two methods of manufacturing temporary crowns:
Temporary crowns are made in patient oral cavity. To do this, before preparing the tooth, the dentist removes the cast from this tooth, the exact configuration of the tooth is obtained in the cast, then the tooth is prepared under a constant crown. After completing the preparations, the doctor in the first blind is flooded with a special liquid plastic, and the cast is put on the treated tooth. After a few minutes, after hardening the plastics, the doctor extracts the casting from the teeth, and now, the temporary crown is ready. After, the doctor sucks the temporary crown, checks on the bite, polishes and fixes to temporary cement.

Laboratory - manufactured in a dental laboratory. For this, the doctor processes the tooth, removes the cast and sends to the dental laboratory. Dental techniques cast a plaster model and manufactures a temporary plastic crown. Then the doctor's ready-made temporary crown sucks, checks the crown on the bite, polishes and fixes with the help of temporary cement to the tooth.