The perennial problem of excess weight has led tothat began to appear more and more weight loss methods. It should be noted that the excessive weight problem exists worldwide. Today, therefore, we developed a variety of types of diets by authors from all over the world. For example, in France are overweight often struggle with a special power supply system, which is called the French diet.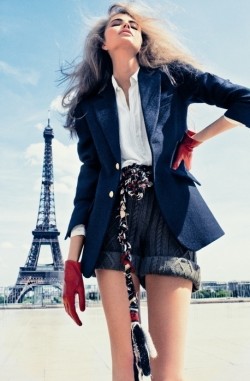 Many types of French diet includingclassic French diet, have been used successfully for half a century. Learn more about all the main kinds of French diets tell readers mymedinform.com in this article.
First, let's get acquainted with the generalthe principles of the French diet. In the first place, nutritionists recommend paying attention to the speed of eating food. Thus, it is believed that the slower you do it, the better. Before the start of the meal is recommended to drink a glass of drinking water. If there are no contraindications, then into the water, you can add lemon juice. Such water with lemon is good activates metabolism.
With regard to diet rations, it providesconsumption of foods with less fat. At the same time to the authorized product in the diet are foods such as fish, seafood, cheese, vegetables and whole wheat bread. As for meat and eggs, these foods can be eaten only in limited quantities. Thus preferably selected rabbit meat, turkey and veal. In a limited number can also be included in the diet of fruit that can be eaten as a dessert.
Another important rule for the French dietIt is usually the last meal. According to this rule, the last meal of the French diet should be the most low-calorie. This may be a vegetable salad or fish boiled. It is recommended that the last meal was not later than 19:00.
The French diet for two weeks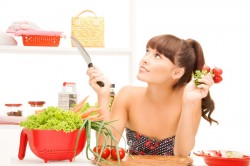 This embodiment diet for 3-5 days can be calledbasic diet for anyone who wants to lose weight. For diet we will need to prepare a special salad. For its preparation, in addition to celery root, you will need a pair of bell peppers, lettuce, cucumbers, and a pair of one lemon. Celery root to three on a coarse grater, peppers and cucumbers, finely chopped. All the mix. The base is ready for the salad. All this number is divided by five small chunks that need to eat every two hours during the day. Each meal is added in a portion of lemon juice.
Pros.
This is a short version of the diet for weight loss is very rapid.
Minuses.
This variant of the French diet is monotonous menu. This diet should not use people who may be allergic to celery. It is also not recommended for people with varices and ulcers.
The French diet yogurt
Option is designed for three days. For this French diet we need for each day of five jars of yogurt and three grapefruit. It is important that no sugar was yogurt without any additives. For every half an hour before a meal to squeeze out of grapefruit juice and drink it. After half an hour you can eat yogurt. It is important that the last meal was not later than three hours before bedtime.
Pros.
This is a short version of the diet.
Minuses.
Contraindicated in the presence of allergy to citrus fruits. And in the presence of diseases in which citrus fruits can not eat.
The French diet garnet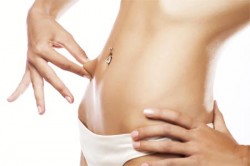 For this embodiment, the diet for three days we alsoyou need to cook a special salad. To make it, we need the lettuce, cherry tomatoes four pieces. There will be a need balsamic vinegar. To prepare the salad you need to start to get a grain of pomegranate. Then mix with lettuce and tomatoes. Salad season with balsamic vinegar. All this number to distribute three meals. Between meals are allowed to drink water with lemon.
Pros.
Short diet for losing weight fast enough. It has a light menu.
Minuses.
This variant of the French diet is definitely notbe used in pathologies such as gastric ulcers and gastritis. In addition, pomegranate juice can spoil the tooth enamel. In addition, this diet in any case can not be used for pregnant women.
General conclusions
Most diets presented as possiblenotice, are rather meager menu. This is especially noticeable in the two-week version. In addition, each version of the above diet can not be called a balanced diet. However, it should be noted that all the dishes are prepared in the French diet rather quickly and easily.