What should be done to preventdental disease? First of all, you need to eat right. Factors such as oral hygiene, heredity and others are also very important in relation to the health of teeth, but proper nutrition plays still a key role in maintaining oral health.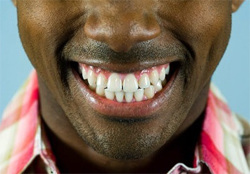 It's no secret that meet the mantheir looks. And if this is the istrёpana their looks or smells bad all the more, by no one wants to even approach such a person, let alone talk to him, to "carry out the mind" and even more so. Today, people have learned to expertly hide behind so for clothes and various accessories that sometimes open side of the eyes can only smile. Its something does not hide! That is why it is so important to take care of dental health. However, the aesthetics of teeth is not the only function. Food chewing teeth makes an indispensable tool in the work of digestion, participate in the sound production is important for everyone, because it makes it possible to intelligible speech.
What should be done to preventdental disease? First of all, you need to eat right. Factors such as oral hygiene, heredity and others are also very important in relation to the health of teeth, but proper nutrition plays still a key role in maintaining oral health.
A little about the anatomy of the tooth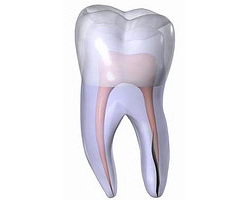 I would like to emphasize the fact that the tooth - itorgan of the human body such as the hand or foot, liver or kidney. Like any organ, the tooth has a specific structure that allows you to carry out its functions (that we talked about earlier). Inside the soft tissue is a tooth - the pulp containing blood vessels, nerves and cells forming the basic material of the tooth - dentin. Dentin is an extremely solid form (it even harder bones!). Outside the tooth is covered with cement (in the region of the root) and enamel (in the visible part of the tooth - the crown). Enamel - the solid education of the human body. It is 95% composed of calcium salts, which gives it the strength of steel, but makes it extremely vulnerable to acid.
Calcium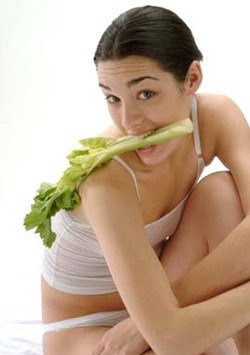 Since the main part of the tooth is calciumExtremely important to sufficientlyuse it with food. Calcium is found in foods such as milk, cheese, sour cream, fish, beets, carrots, radish, bran, lettuce, celery, beans, spinach, almonds, grapes, honey, oranges, strawberries, peel all fruits and vegetables. Also in relation to calcium is helpful there aspic. There medicaments containing calcium, such as calcium gluconate.
our website advises also be remembered that the normalCalcium absorption is impossible without an adequate supply of vitamin D, which is found in fish and fish oil, in the liver. That is why the medical market were preparations containing complex calcium with vitamin D, such as "Calcium D3 Nycomed". However, the unique ability of our body is the formation of vitamin D in the skin under the influence of ultraviolet light, and therefore the need for additional drugs with proper nutrition and sufficient exposure to the sun is low.
Phosphorus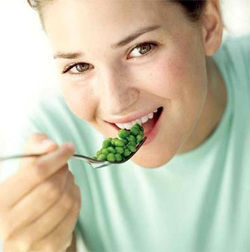 Calcium in teeth is not freelyAt present, it is chemically linked to a phosphate and fluorapatite hydroxy. Without phosphorus, within them, there would be at the enamel and dentin of the rock strength, which provides the function of their teeth. For this reason, dentists are advised to monitor the use of phosphorus-containing products. Especially as calcium and phosphorus is absorbed only when they are contained in the food in a certain proportion. Of course, count milligrams eaten minerals and their relationship to food is not possible, so in practice enough to watch over their diet. Phosphorus is found in the following products: green peas, nuts, grains, lentils, celery, cod liver oil, fish, meat, soybeans.
Fluorine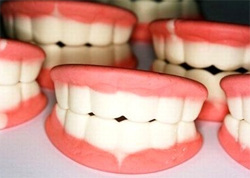 Enamel has just erupted tooth containshydroxyapatite (calcium and phosphorus) on the protein matrix. Over time, the fluoride ions penetrate the structure, thereby forming a subsurface enamel fluorapatite, in addition to having greater resistance to acids and more anticaries effect.
Where is contained fluoride? Its main source of the body is water, so clearly a correlation between the incidence of dental caries in a particular region and the content of fluorine in the local water. Independently, this figure can not be improved, so a number of countries (eg, USA) performed a centralized fluoridation of drinking water sources. Russia also attempts to fluoridate water, milk and some food. So far, the most acceptable solution is fluoridated salt for us. Depending on individual oral health and water composition dentist may prescribe fluorine-containing pills. However, taking them uncontrollably our site in any case is not recommended - in Russia it is 90% of cases leads to poisoning.
Why spoil your teeth?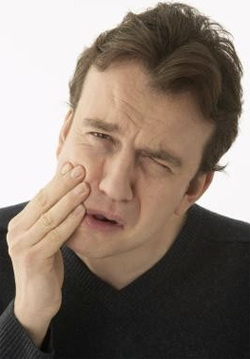 Caries - the most common dental disease. He is accompanied by leaching calcium from the enamel of the tooth. The main role here is played by oral bacteria. They multiply in the dental plaque and tartar. That is why it is important to prevent the formation of dental plaque and the accumulation of bacteria in it. The nature of power plays a significant role. Have particularly detrimental effects of food carbohydrates, but not all, but only those which can be used by bacteria in the oral cavity: sugars, starches and foods containing them. This sweet tea, jam, confectionery, bakery products, pasta and others. They are able to stay long in the natural depressions of the teeth and serve as food for bacteria, followed by the formation of acids that can erode tooth enamel. Since teeth lose calcium and bacteria penetrate deeper - caries develops.
Tips on nutrition dentists
To prevent the development of caries is important to observe a number of rules of healthy eating.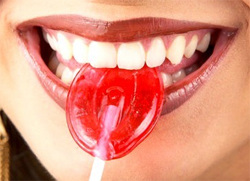 It is necessary to reduce the reception of carbohydrates that play a rolein the development of caries (of which we have already mentioned). It is sufficient to limit the intake of sweet foods, or replace some sweets, for example, instead of sugar in tea to use honey.
Honey, by the way, contains natural sugars thatThey can not be utilized by bacteria of the oral cavity. An interesting example: the remains of eaten cookies can remain on your teeth up to 50 minutes, creating a perfect environment for breeding bacteria.
At the same time should be increased use ofvegetable fiber. It is found in vegetables and fruits. Cellulose available for oral microbes and at the same time is very useful for the intestine, where it plays a role of a "broomstick".
Do not forget about the role of mechanical and vegetablesfruit. Much more useful to eat a whole apple or carrot than the same pre-mashed "gifts of nature". Hard foods naturally cleans teeth, allowing them to stay longer healthy.
Many foods can cause an increase information of saliva: it is acidic vegetables and fruits, meat and cabbage broth. Causing increased saliva production, they have a strong anticaries effect as saliva, firstly, bacteria literally washes secondly comprises lysozyme antibacterial agent, and thirdly, contains calcium, which penetrates the enamel and strengthens it.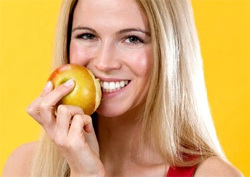 But these rules do not mean that we shouldcompletely give up sweets, chocolate, biscuits and other components of the "sweet life". Especially, that the abolition of the sweet cause in the body decrease in the content of "happiness hormone" - endorphins. What to do? Our website recommends that after each meal brush your teeth for 3 minutes. If you are at home, then execute this rule is not difficult, but it is not always possible. You can rinse your mouth after a meal, but it is not very effective. In most cases, helps chewing gum. It needs to be chewed within 5-10 minutes after a meal. Chewing gum itself must not contain sugar. It is produced mainly from urea and adding flavorings and sweeteners. Please note that most chewing gum is contraindicated in patients with severe disease phenylketonuria.
The well-known expression that the man - awhat he eats, fully suited to the teeth. After all, poor diet and lack of care for their teeth can lead to tooth decay and even the early loss of teeth. Compliance with the simple rules of proper nutrition will not only smile mouth wide open, but will feel confident in any situation.