Design studio Pirogov's Bureau, known for its beautiful sites, has created the first website in the healthcare industry with game elements for a children's hospital Author Honey.
Content
---
Clinic Website Author Honey
The site conveys the atmosphere of the game and celebration, in absentia forming a positive image of the clinic for the young patients.
Visitors to the site enter the virtual roomclinic. The site young patients and their parents, in the form of the game, can be moved in three locations: the registry - dentist - laboratory. Even before going to the clinic, they can play with fun toys, located there. Thus, the site helps children adapt to the new environment, free from the fear of doctors or clinics, establish emotional contact with patients before the trip to the doctor.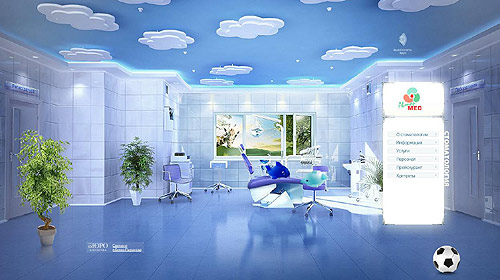 Clinic Website Author Honey has become a full-fledgedonline representation, already at the first contact giving visitors a complete picture about the services, service level and true respect of the staff to their clients. Now, medical institutions will be able to build relationships with their customers before a personal meeting with them, forming the most important asset in medicine - the trust of patients.