Pregnancy is absolutely contraindicated in lupus? No. Today, women with systemic lupus erythematosus can gestate and give birth to healthy children.
Content
---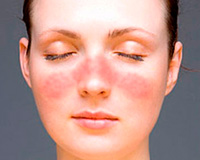 systemic lupus
lupus
- this
disease of young women, and therefore it is clear that the question of pregnancy occurs frequently. A great desire to have a child is opposed
and fear for his own health. It is not surprising, because until recently
systemic lupus
lupus
considered
absolute contraindication for pregnancy and the need to interrupt her at
early. Today medical science has reached a level that
allows women with lupus, have healthy children in spite of the
the seriousness of the diagnosis.
systemic lupus lupus
- this a chronic autoimmune disease characterized by the formation of
antibodies to its own connective tissue, inflammation and its destruction. Lupus It affects the blood vessels,
joints, heart valves and membranes, the kidneys and lungs. It causes
vasculitis, arthritis, myocarditis, endocarditis, heart valve defect,
pneumonitis, glomerulonephritis, nephritis, polyneuritis. It is clear that in such
large-scale defeat very hard to talk about pregnancy and childbirth. But still
with timely and correct treatment can achieve significant and
stable feeling better and getting a chance to reproduce.
First of all, you must understand that the possibility of pregnancy in lupus is solved
collectively treating rheumatologist and an obstetrician-gynecologist. The best time to
birth of a child is a period of remission, that is, when a woman
It feels almost healthy. With the conception of the problems usually does not happen, but
during pregnancy complications often arise, by the way, is quite
treatable. It is believed that half of pregnancy on the background
remission and flows out well in 25% of cases - premature birth. Unfortunately, the remaining 25% of women overcomes illness
- There is a miscarriage or a baby dies in utero.
Incubation pregnancy
lupus - A difficult matter that requires thorough preparation. main
planning rules during pregnancy
erythematosus: Healthy and nutritious food, a complete rejection of bad habits,
competent treatment, monitoring and scrupulous implementation of doctor's appointments. observed
that women who were in the period of 5-6 months before conception in a state
remission, pregnancy is proceeding normally and exacerbations lupus occurs. Actually pregnancy rarely causes
exacerbation lupusBut if it happens,
the aggravation quite easily docked with modern drugs. At 6-15%
pregnant patients, in contrast, the improvement being noted. From the point of
occurrence of exacerbations lupus
the most dangerous are the first two trimesters of pregnancy. At that time
may reduce the amount of blood platelets and the appearance of protein in the urine,
the occurrence of arthritis, the appearance of the characteristic rash, general weakness.
Although it is not recommended during pregnancy
take medications, therapy lupus
It continues, and even amplified if necessary. Most drugs,
shown in lupus, are safe and do not affect the fetus. For example,
prednisone does not cross the placenta, and dexamethasone administered only
when there is a question about the early delivery and the need for
prepare a light fruit for the first breath. Aspirin - a safe drug
which is so often used to treat thrombosis prophylaxis of toxicosis.
The most frequent (20%) complications pregnancy in lupus is late toxicosis - state
very serious, requiring immediate treatment, and in some cases - premature delivery. Frequent visits to the doctor, the control of blood
pressure, weight, regular urine tests are vital pregnant. timely
detection and treatment of toxemia - a woman and a child safety guarantee.
The defeat of the connective tissue in systemic lupus erythematosus in 33% of cases accompanied
elaboration of antiphospholipid antibodies that damage blood vessels of the placenta - the main
body providing respiration and nutrition of the fetus. In the event
placental insufficiency occurs retardation and malnutrition
fetus. Contents of antibodies is monitored by blood tests, and the child's growth, job
his heart - with the help of ultrasound, doplerometrii, CTG.
The main danger for the child in the presence of lupus the mother - is prematurity,
occurring in half of the cases. Births often occur by caesarean section and
must be performed in a hospital, equipped with facilities for the care of premature
children.
The literature does not describe any of congenital anomalies in children,
were born from mothers with lupus,
they grow and develop normally, both physically and mentally.
In 33% of patients during pregnancy detected anti-Ro antibodies that 10% of
become a cause of neonatal lupus. Do not confuse it with the system
red lupus, Its manifestations are not
afraid and go to 3-6 months of life. Sometimes there are problems with
the heart can be overcome, but even when they are stored child develops
fine.
Pregnancy at
erythematosus It can and should end with the birth of a healthy baby. The only thing,
what should take care of the expectant mother, in light of possible bad times
health after childbirth - is assistant for baby care.