On the world market there is a drug GavisconFor more than forty years, and he recently appeared in Russian pharmacies. Television advertising is positioning the drug as a means to quickly get rid of heartburn and other uncomfortable sensations.
Recent statistics report that on heartburn and digestive disorders suffer about73% of people. Moreover, every fifth symptom of heartburn is repeated every week. Doctors call this phenomenon "acid reflux." When the acid in the stomach enters the esophagus, this ailment occurs. Acid irritates the delicate mucosa lining the esophagus, so a person begins to worry about unpleasant, painful sensations behind the sternum, in the epigastric region (burning, discomfort), as well as an acidic taste or nausea. Their duration may be from a few minutes (5-10) to several hours.
our site offers a deal that is part of the drug Gaviscon as taking it as to give preference to this tool.
Understanding Gaviscon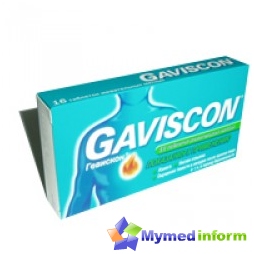 Gaviscon currently belong to a new groupmedicines - alginate. Their therapeutic effect is similar to the impact on the body of antacids. Therefore, in a number of information sources you can find information about Gaviscon as an antacid.
Gaviscon main component, produced in the United Kingdom - sodium alginate. It is produced from brown seaweed.
At the pharmacy, you can see a number of dosage forms of the drug, which is very convenient to use:
Chewable tablets having a lemon or minttaste. It is present in each tablet 250 mg of sodium alginate, and sodium hydrogencarbonate, calcium carbonate, additional ingredients (magnesium stearate, mannitol, aspartame, acesulfame potassium, copovidone, flavoring). The package contains 32, 24, 20, 16 or 8 tablets.
The suspension in bottles of 300, 150 or 100 ml (withmint flavor). In 5 ml of this white suspension contains 250 mg of sodium alginate, sodium bicarbonate and calcium carbonate. Auxiliary ingredients: carbomer, methyl parahydroxybenzoate, sodium saccharin, propyl parahydroxybenzoate, sodium hydroxide, peppermint oil, purified water.
The suspension is called "Gaviscon forte" inbottles of 300, 250, 200, 150, or 80 ml (with mint or anise flavor). It can be packaged in bags and in their packaging may be 20, 16, 12, 8, 4 pieces. In 5 ml of the suspension contains sodium alginate twice, that is not 250 mg and 500 mg. Sodium bicarbonate in it, but there is more potassium bicarbonate. Excipients manufacturer takes the following: calcium carbonate, methyl parahydroxybenzoate, carbomer, sodium hydroxide, propyl parahydroxybenzoate, purified water, flavoring (fennel, or peppermint), sodium saccharinate.
Suspension and chewable tablets under the name"Gaviscon Double Action", packaged in bottles of 600, 300, 200, 150 ml and 10 ml sachets. This is a new version of the drug "Gaviscon", which was successfully registered in the Russian Federation in April 2012.
Gaviscon improves with dyspepsia,which appears with increasing acidity in the stomach and illness called gastroesophageal reflux disease (when the contents of the stomach is thrown into the lumen of the esophagus). Thus there is heartburn, heaviness in the pit of the stomach, in the chest, belching sour after some time after a meal. Such symptoms are not uncommon in diseases of the digestive tract in women during pregnancy.
Action Gaviscon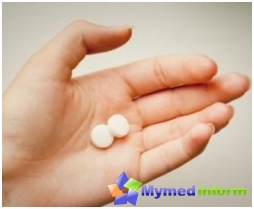 If you purchased Gaviscon tablets, the adultand young people, aged over 12 years can chew 2-4 tablets per reception. If the child is not 12 years of age, the dose appoint a pediatrician individually.
calcium carbonate is present in suspension,has antacid properties, so if you are taking more any medications (especially tetracycline antibiotics, fluoroquinolones, blockers H2-histamine receptors, digoxin, ketoconazole, corticosteroids, beta-adrenoblokatorov, iron preparations, doses, etc..), then take at intervals of not less than two hours.
People who stick to a diet with a low contentsalt (it is assigned in case of problems with the kidneys, heart), it is important to know that in the 10 ml suspension Gaviscon present 141 mg of sodium. In 10 ml of suspension "Gaviscon forte" sodium 106 mg. And four tablets 246 mg sodium, respectively.
MirSovetov emphasize that women whopregnant or breastfeeding baby are allowed to take Gaviscon. The main components present in Gaviscon not absorbed into the bloodstream. Gaviscon only contributes to the formation on the surface of the food bolus alginate protective barrier, not giving gastric contents back into the esophagus.
Are there any side effects and contraindications?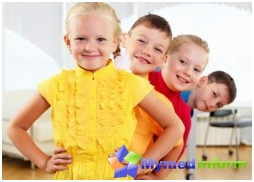 Medicine Gaviscon well tolerated by patients,causing no adverse effects. In rare cases, the allergic reactions were recorded. If patients exceed the maximum daily dose, then some of them have occurred abdominal distention.
Contraindications have little preparation:
idiosyncrasy those substances which are listed in the composition, hypersensitivity thereto;
under 6 years of age (this applies Gaviscon);
age up to 12 years (this applies only to Gaviscon Forte).
The caution should be used Gaviscon if elevated levels of calcium in the blood and at the IBC (so called abbreviated urolithiasis).
Although this drug available over the counter withoutrecipe, if you often concerned about heartburn, be sure to visit the doctor that the treatment was effective, help to get rid of this unpleasant symptom.