Which provides food diet KimProtasov, what results can be expected and whether it is possible to use it - talk about it and today our site. Note that, as with any diet, it has its limitations, and whether they will suit you, you decide for yourself, but rather after consultation with the doctor.

"Do not make a meal of the cult. A thin cow is not yet a gazelle "- so rightly said Kim Protasov in the title containing the basic principles of the new diet. Since the publication of this article in the newspaper "Russian Israeli" it's been 8 years, and during that time Protasov diet already established itself as a simple, harmless to health and, most importantly, a highly efficient way of getting rid of the extra kilos.
Which provides food diet Protasov, onwhat results can be expected and whether it is possible to use it - talk about it and today our site. Note that, as with any diet, it has its limitations, and whether they will suit you, you decide for yourself, but rather after consultation with the doctor.
What is the diet Kim Protasov?
In the Kim Protasov diet is no big deal. Its duration is five weeks. In the first two weeks you can be, how much you want to eat fresh non-starchy vegetables and dairy products 5-percent fat content (in our country the equivalent of the latter may serve as cottage cheese, yogurt and cottage cheese grainy). All sorts of cheese curds, yogurtery and fruit curds, even suitable for fat, fall away, because as additives they contain starch and sugar, so carefully study the package description on the product composition.
In addition, the daily menu should includeboiled egg, three green apple and at least two liters of water, tea or coffee; Naturally, the latter should be consumed without sugar. The main rule: make sure the amount of fat - they should not be more than 40 grams per day.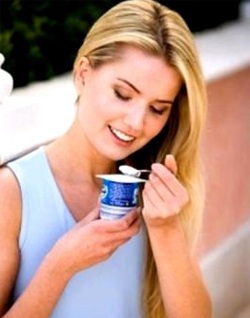 A note from our website: it is not necessary to repeat the common mistake and eat the first two weeks only one dairy products! Then it turns diet overloaded with fat and protein on the background of a clear lack of carbohydrates. This not only promotes weight loss but can actually harm the body. So be sure to eat vegetables every day, which, among other things - an excellent source of vitamins, minerals and fiber. Another mistake - strain at the salty cheese, or cheese. Salt retains fluid and makes it very likely the formation of edema.
The third, fourth and fifth week of sittingdiet gradually reduce in their diets share of dairy products and replace them with lean meats, low-fat chicken or fish, the volume of which must daily be about 300 grams.
That's all there is no particular restraint is not required! Most likely, the extra weight will leave you within two weeks of dieting, - in any case, it happens in the majority.
Benefits Protasov diet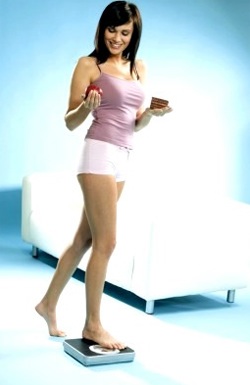 Sitting on Protasov diet, you can eat as much,as you want, which is very comfortable psychologically. This overeat, using the products offered, is simply impossible, because the daily diet rich in a long time to digest protein and fiber, but the simple carbohydrates that are quickly cause a feeling of hunger, it lacks.
Another plus is the lack of simple carbohydrates. Abandoning them for five weeks it is possible to get rid of cravings for sweets due to the establishment of normal functioning of the pancreas, and the presence of fat in food and dairy products virtually eliminates failures.
Dairy products - a storehouse of calcium, protein, andmilk sugar (lactose), and it is this combination is a natural fat oxidation stimuli at the cellular level. In addition, high-quality natural protein in dairy products and eggs, and a sufficient proportion of the protein in the diet (about 30% of total calories) also helps get rid of excess weight.
To get rid of excess weight optimalis the reduction of fat, but not their exclusion. Diet Protasova, unlike many other fashion diets, although limited use of fats, but does not prohibit them. This is very important, because a complete rejection of fat is fraught with bad consequences for the skin, heart, endocrine system. Moreover, fat contained in the fat content of dairy products is not more than 5.3% by itself can also be beneficial for weight loss.
The main exit rules of diet Kim Protasov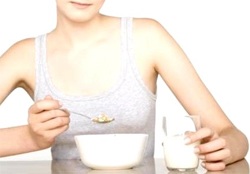 To re-dial is not dumped kgs,after the diet can not immediately, like a hungry beast, lash out at every meal. This is true for any diet, including diet and Kim Protasov. Return to normal diet should be gradually, without haste.
What exactly do? Our site offers the following options.
Start breakfast of buckwheat, millet or oat porridge, amount of servings - 250 ml. Porridge supplement cottage cheese and vegetable salad.
Two apples three substitute other fruits andberries, of course, also do not contain starch. You come gooseberries, currants, all citrus fruits, kiwi, pears, cherries and more, and here, for example, from dried dates, mangoes or bananas is wise to abstain.
In salads, you can add a little vegetable oil.
The diet can vary nuts, but remember,that they contain relatively large amounts of fat - for example, only three major almonds 1.5 grams of fat. Outputs are two: or eat nuts in very limited quantities, or to reduce the fat content of dairy products.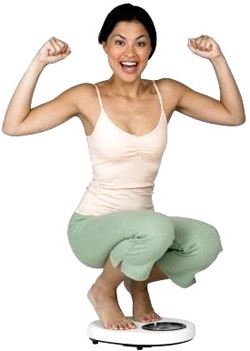 Coming out of the diet, do not forget to constantlycontrol the amount of fat! As already mentioned, there should not be more than 40 grams per day, including fats that are contained in the dairy, meat and fish products, eggs and salad.
To use Protasov's diet there are severalcontraindications, and they are not superfluous to recall, or by getting rid of excess weight, in return you can earn an aggravation of chronic diseases. So, diet Protasov is contraindicated in those who are allergic to or intolerant of prescribed sour-milk products. Holders of cardiovascular disease, hypertension, Kidney disease should limitliquid, as from a large number of its possible increase in blood pressure. If you have metabolic disorders, that before going on a diet, you should consult with your doctor.
Perhaps you do not get the first timego to food, offered this diet, especially not easy to be the first two weeks. But if you go abroad, not to be tempted and to a drop of sweet, the result clearly please you. By the way, Kim Protasov recommends his method for losing weight only once a year. Therefore our website to save weight on the reached level recommended: after leaving the diet eat rationally and as far as possible avoid the gastronomic temptations.