Salt is an essential ingredient inpreparation of any dish. But its surplus can be the source of the problem of excess weight, which tirelessly fight many of the fair sex. After the salt has the ability to delay in the body fluid, which in turn stops the metabolism.
Advantages and disadvantages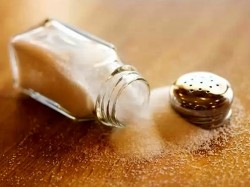 Thanks to a salt-free diet in our body is restored the water-salt balance and displays all the unnecessary (excess) fluid. As a result, a person can lose weight 3-4 kg per week.
It is worth noting that salt-free diet in anythe case does not call for completely abandon salt, but simply limit its consumption. After all, it contains all the required sodium charge of calcium excreted.
Micronutrients and substances are known exactlyin the same way as salt, in acceptable doses only benefit us. But, unfortunately, many of us do not adhere to these principles. Studies have shown that a person exceeds the daily norm of salt by an average of 15 g, while using chips, various canned food, bread, sausages, salted nuts and other junk foods.
Some nutritionists unanimously declare thatThis diet is not something that is not effective and even harmful to humans. And explain this by saying that the weight goes only by the fact that the body of excess fluid out, and not because of the fact that a person uses products that do not contain salt. Studies have proven that people who said 'no' salt, sick more often than usual, with severe cardiovascular disease. So if you decide to lose weight this way, try to do it without fanaticism, so as not to hurt yourself.
diet Rules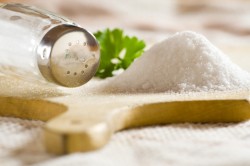 If you exercise regularly or havework involves regular physical activity, from the salt-free diet should be abandoned. Also, experts strongly recommend not to sit on this diet in the summer. After all, in hot weather and during exercise has the ability to salt out of the body, we, in turn, must fill in the gaps of missing micronutrients. And such a diet, we on the contrary, aggravated the situation. Therefore, if it really is necessary to lose a couple of kilograms, it is better to resort to other methods.
Note: a diet, try to "listen" to your well-being. For example, if you frequent headacheIt appeared dizziness, weakness in the body, or nauseaTry to return to your diet a little salt. If the situation worsen, it is better to consult a doctor.
Delicious recipes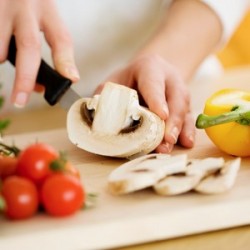 Today, there are many recipes for delicious dishes that can be prepared, if you decide to go on a salt-free diet. Here are a few of them.
Cold soup. You will need: low-fat yogurt, 200 g of radish, two stalks of celery, cucumber, chive, 4 tomatoes and herbs to taste. Radish, celery and cucumbers wash, dry, cut into small slices. Tomatoes pour over boiling water, peel and chop the blender. In the resulting mass add the vegetables, yogurt, passed through the press garlic and chopped herbs. Before serving, chill.
Light salad. The following products are needed: 300 g each of cabbage and apricots, 100 g of cheese, better than Adygei, 1 red onion, 3 tbsp. l olive oil, 1 tbsp. l honey and apple cider vinegar. Chop cabbage, put in a deep salad bowl. Then add chopped onion, diced cheese and small slices of apricots. In a separate bowl, combine honey, olive oil and vinegar. At the end of the mixture, season the salad and mix everything carefully.
Chicken Fritters. Ingredients: 200 grams of chicken, 2 onions, potatoes, carrots, yogurt, parsley, lemon juice to taste. Chicken breast cut into small cubes, add chopped onion and set aside for 30 minutes. Then, put the stuffing on a fine grater grated potatoes and carrots. At the end, add the lemon juice and chopped parsley. In the laid parchment baking spoon lay out cakes and bake in a preheated 180 ° C oven until golden brown. Serve with yogurt.
Fish at home. 250 g of fish fillets, 100 g of flour, 100 g of purifiedchopped walnuts, 2 eggs, 1 lemon, 50 g of breadcrumbs. Fillet wash, dry, cut into small slices, add the juice of one lemon and let stand for 15-20 minutes. Then, each piece of roll in flour, in beaten egg and breadcrumbs (in their pre add chopped lemon zest and nuts). Fish bake in a preheated 200 ° C oven until cooked.
For pregnant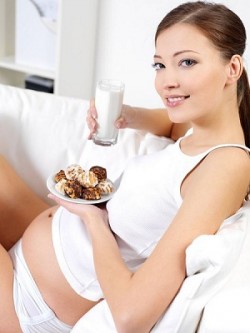 Pregnant women often suffer from swelling and swellingThat occurs as a result of excess salt in thethe body, which eventually accumulates and lingers. To get rid of it, does not necessarily sit on a strict diet, because the girls in the position of not all doctors recommend it for health reasons. To feel good about themselves, simply limit itself to the amount of salt intake.
So a rough menu for pregnant women looks like this:
Breakfast - Green tea, a small portion of semolina.
Lunch - favorite fruit (not more than three).
Lunch - braised veal or chicken with vegetables or baked potatoes.
Snack - fresh bun with yogurt or milk.
Fish cutlets with potatoes.
Sticking to the rules of a salt-free diet or notit's only you. And how many kilos of leaves, also it depends on you, your consciousness and, of course, the characteristics of the organism. The main thing to remember that out of the diet experts strongly recommend very carefully. Although, maybe you'll get used to such a diet, and you do not want to change their way of life!