The homeopathic drug Mastodinon produced from natural ingredients is actively used in the treatment of women who have a cystic and fibrous mastopathy, there are impairment of the menstrual cycle and signs of premenstrual syndrome are pronounced. The drug is also recommended in integrated infertility therapy associated with the insufficient function of the yellow bodies of the ovaries.
MirSees will introduce the composition of the drug, its properties, ways to use, will prevent on possible side effects and contraindications.
Total Medicine Information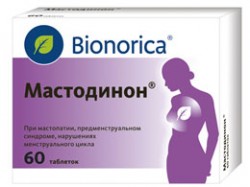 Mastodinon is produced by the famous German company «Bionorica» in two forms:
Tablets having a plane-cylindrical round shape, a beige coloring, you can notice light brown splashes in them. Packaging is 60 tablets. The medication includes substances obtained from:
Abrahamova Tree (Vitetex Sacred, Pruck);
European cyclame;
Starlist Vasilisnikovoid;
chilibuhi ignition;
lilies tiger;
Iris Multicolored.
The role of auxiliary substances are: magnesium stearate, starch potato, lactose monohydrate.
Drops (used for reception inside) - liquid in bottles of 100 and 50 ml transparent, slightly yellowish, felt fragrant smell. Sometimes in the process of storage, the liquid flies a little, or at the bottom of the bottle, the sediment becomes noticeable - these are permissible phenomena that should not be taken as evidence of damage. Active substances in the production of drops are extracted from the same plants as when cooking tablets. But ethanol is taken as auxiliary ingredient.
Medical properties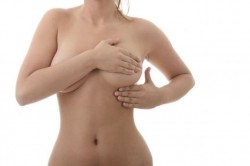 Droplets and tablets are completely the same recommendations for use:
Fibrozno-cystic mastopathy, manifested as benign seals in breast glands, pain, discharge from nipples;
Premenstrual syndrome, when a woman feels tension, soreness and heat in lactic glands, she has races in emotions and mood during the day, appear Otki, Concerned constipation and headaches;
Disorders of the flow of the menstrual cycle and infertility caused by the insufficiency of the yellow body.
In many listed cases, Mastodinon is one of the components of complex treatment.
How to apply Mastodinon?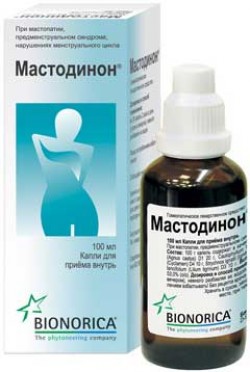 This drug is desirable to take in 20-30 minutes. Before meals. Another option - the reception in 60-90 minutes. After attempted. This tool must be picked up with water (volume is usually 100 ml). It is best to carve out for receiving a couple of minutes in the morning and in the evening. After 1.5 months, women notice improvements in their condition. The course of treatment continues at least three months (this is coordinated with the attending physician).
Before starting to cancel drops into a small amount of water, shake the bottle well (it is necessary to do it every time, that is, before each admission). Usually doctors prescribe 30 droplets twice a day. In the days of menstrual bleeding, the reception of the drug continues. If you do not like the bitter taste of medication, then it can be abandoned in juice, morse, tea.
If you purchased Mastodinon in tablets, then take them twice a day on one, not having risen, but just drinking water. For the period of menstruation breaks in the reception should not be done.
If, during treatment, a woman understands that a pregnancy has come, the reception of this fund should be immediately stopped. In general, desirable Plan a conception Toddler after one or three months after the course of treatment.
The drug is applied by physicians for a long time, over the years there were no cases of overdose.
If after passing the course of treatment, they again allow themselves to know the symptoms of the disease, it will have to visit the attending physician again. Perhaps he will suggest to continue the course of treatment with this homeopathic agent.
It is important to know that the action of mastodinone will be weakened if you are at the same time you accept Domeridon, Damelium, Ganaton, ITomed. Listed drugs are antagonists of dopamine receptors.
There is evidence that the effectiveness of this homeopathic preparation is reduced by smokers of women or abusing alcoholic beverages.
About contraindications and side effects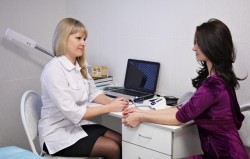 The manufacturer warns that during periods of pregnancy or lactation cannot be used by Mastodinon. Another drug is not prescribed to girls up to 12 years old and people who have the composition components of hypersensitivity to them. For the treatment of malignant formations in lactic glands, Mastodinon is not used. Tablets (due to the presence of lactose in them) are contraindicated in genetic lactase deficiency, hereditary intolerance to galactose, impaired absorption of galactose or glucose.
Drops contain ethanol, so they are not prescribed during epilepsy, liver diseases, or after the treatment of alcohol dependence.
Most patients report that mastodinone receives them well.
But our site will still warn readers about those side effects that may appear when treating Mastodinone:
Allergic reactions.
Much less often observed nausea, Pains in the area of ​​the stomach, a slight increase in weight, headaches, acne, itchy examines.
If the confidence of consciousness suddenly appear during treatment, signs of temporary psychomotor excitation or even hallucinations, then the medicine must be canceled.
At the heart of Mastodinone, the components of plant extracts are laid. This drug has a powerful effect, because it is able to influence the production of hormones regulating the activities of the sex authorities of a woman. Therefore, it is necessary to take it on the appointment of a doctor, after surrendered tests for hormones.