Sometimes, even simple basic movementshand cause excruciating pain in the elbow joint. When such pain doctor can diagnose epicondylitis of the elbow joint. Those who most often develop this disease? How to overcome it? Why is he there? How to prevent this pathology? We will tell about all the proposed article.
Understanding epicondylitis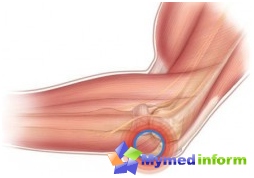 It is a chronic disease characterized bythe appearance of degenerative changes, sprains and inflammation in the muscles and tendons of the forearm in those places where they are attached to a small bone protrusions (epicondyle) humerus. Most often when the disease affects the tendons involved in the hand and finger extension; muscle that holds (stabilize) the wrist when the arm is straight (it is a short radial extensor); interphalangeal and wrist joints and adjacent tissues (styloid otrostochek radial bone, the periosteum). Usually amazed "leading" hand, if the person is right-handed, it is a pain in his right elbow. If a person has more functions assigned to the left hand, the disease develops in the left elbow. If a person suffers pain does not go to the doctor, the disease progresses for a long time. It is very common among those people who are exposed to excessive loads in the sport. Athletes have even a second of its name - "tennis elbow."
Why there is epicondylitis?
The main reasons for the emergence and development of epicondylitis include:
Chronic stress during extended tissuerotations of the forearm while the frequent repetition of flexion and extension of the elbow. Such movements often perform tennis. Particularly high risk of this disease, if properly picked up the racket and have errors in the technique of impact.

Do not tolerate the pain, in the mistaken belief that allpass itself. Only a doctor can correctly assign diagnosis after treatment, to prevent the passage of epicondylitis chronic. The aim of therapeutic measures - to relieve the patient from pain, quell inflammation, restore blood circulation in the limbs, the possibility to return in full motion related to the elbow joint.

The doctor will advise the first time (10 days)exclude those movements that are likely to trigger the development of diseases, the implementation of which causes pain. But that did not happen muscular atrophy, hand still has to move.

During the day it is recommended to perform movements in elbow, orthopedic clamps, special bandage. this helpers removed the evening. All this helps to heal tissue damage.

Relieve pain and inflammation are capable of non-steroidalanti-inflammatory drugs (used orally or topically). Doctors usually prescribe topically (rubbed course - not less than 14 days): Long-cream, ointment Ortofen, Nise gel, ointment Aertal, Phenylbutazone ointment, gel Bishofit. Tablet shape: Ibuprofen, Ketanov, Nimesil, Nurofen, Ketorol.

It is useful to apply compresses camphor oil (two hours), with a medical bile (overnight) or blue clay (not more than two hours).

If the patient complains that unbearable pain, the doctor may do the most painful area of ​​intramuscular injection of a corticosteroid (such as "Kenalog-40").

Modern methods of treatment of this disease -plasma injection, platelet-rich (growth factors). Injections are painful, but they are effective as significantly reduce inflammation, relieve pain, promote healing of injured tissues, strengthens muscle fibers, tendons, ligaments, bones.

After the recession of the inflammatory process, the doctor may recommend the following physiotherapy:
pulse magnetotherapy;
ultrasound therapy;
diadynamic;
Extracorporeal shockwave therapy;
paraffin, Naftalan, mud, ozocerite baths;
phonophoresis, Phonophoresis.
Can benefit from massage, acupuncture, acupuncture, pharmacopuncture.
It is very effective in this disease homeopathy, apiotherapy (Bee stinging, treatment with propolis).
When the pain subside, the doctor will select and appointa set of simple exercises that will help restore the muscles and tendons, which are located around the elbow, return the activity of the hand, to strengthen the muscle power.
Some people recover withina few weeks, while others - has been delayed for months. Conservative treatment helps about 95% of patients. If, within 6 months of improvements is attained, the medical resorting to surgery. Through the incision or puncture tissues removed those portions that are inflamed and changed, and then separated muscles are attached to the bone. In case of complications after such surgery is sometimes not possible to fully restore the function of the patient hand.
Recommendations on diet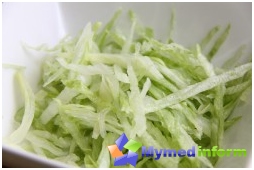 Food, too, can contribute to patient recovery. People suffering from epicondylitis of the elbow, our website recommends having at the dinner table the following products:
salads with fresh celery;
dishes of salmon, pink salmon, mackerel;
chicken, turkey;
dish of pearl barley and cereals;
cheese, cottage cheese, eggs;
fresh pineapple;
broccoli, pumpkin, spinach;
green tea, stewed fruit.
How to prevent the disease?
As they say, prevention is more important than a pound of pounds of cure. In order not to suffer from pain in the elbow, if possible, follow these parting words:
Be careful and cautious when carrying heavy loads, doing hard physical work. Do not overexert when using hand tools.
Special protectors help in some cases to protect your elbows.

Take an easy workout to warm up the muscles and joints, to prepare for further load the tendons of the forearm and shoulder before commencing any work with the same type of motion.
After strenuous exercise, it is desirable to do self-massage, which includes such techniques as easy stroking, then a thorough kneading and rubbing.
If you must sit for a long time, doingwork, be sure to watch your posture. Your hands should be in a comfortable position for them. Several times move your work, short breaks. Do not be lazy, spend a little break during the exercises for legs.
Being treated in a timely manner any infectious processes (sinusitis, tonsillitis, urethritis, prostatitis, etc.).
People who often developsepicondylitis - is the athletes (not just tennis, but the rowers, weightlifters, boxers), builders (plasterers, painters, carpenters), musicians (violinists, pianists), workers of agricultural sphere (milkmaids, machine, tractor), health workers (masseurs, surgeons , dentists). Even avid gardeners and growers are predisposed to the disease. People of the above professions and categories should be especially attentive to their hands, not to neglect preventive measures, correctly calculate the duration and intensity of the loads on the joints of the hands, to such disease as epicondylitis passed by them.