If suddenly disturb any inflammatoryprocesses in the oral cavity (on the gums, cheeks, tongue), make sure you will find in the drugstore for you a suitable antimicrobial agent. And if you urgently need to relieve pain in a child or adult is related to teething or other reasons, then you need to purchase a product for topical application to the analgesic effect.
Today MirSovetov offers its readersmeet with a dental gel called "Holisal", which combines the multiple therapeutic effects. Dentists and patients use this tool at home, very positive about it and note a few of its advantages.
Understanding gel Holisal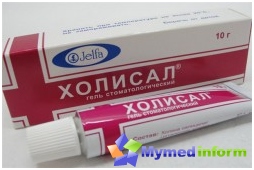 This gel is produced in Poland pharmaceuticals plant "Elfa".
In a tube is 10 grams of the drug. It is a clear, colorless homogeneous mass, which has the smell of anise oil. In the role of active substances are the choline salicylate and tsetalkoniya chloride. Used in the manufacture and formulation auxiliaries: methyl parahydroxybenzoate, gietelloza, glycerol, propyl parahydroxybenzoate, anise seed oil from ordinary water, ethanol.
We select a few significant advantages Holisal:
The gel is more convenient to use than an ointment. He is best attached to the mucous membrane, not washed away by saliva remains in the place where he suffered.
Its components are quickly absorbed in the field of application and immediately begin to act, showing good therapeutic activity.
Within 2 minutes after applying the pain starts to subside and makes itself felt from two to eight hours.
The active substances act both in acidic and alkaline medium.
Lekform This allows the active ingredients to penetrate deep into the tissue, which has a positive effect on the result of the application.
pharmachologic effect
This dental gel, hitting the mucousshell, is able to exert antimicrobial, anti-inflammatory and pain reliever (analgesic) action. For pain relief and reduce inflammation mainly responsible choline salicylate. He absorbed without delay in the application and inhibits the production of prostaglandins (mediators of pain). It has antimicrobial and antifungal activity. Chloride tsetalkoniya helps him destroy pathological fungi and microbes. Gel base promotes retention of active substances on the mucosa, which increases the effectiveness of the drug.
When I applied Holisal?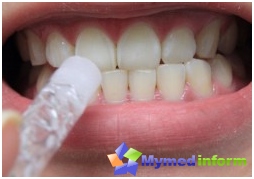 Very often teething babiesaccompanied by pain, swelling of the gums, inflammation. In adults, as in some cases severe and prolonged cut through wisdom teeth (doctors call them eighths molars). Then come to the aid Holisal and relieve suffering. Just twice a day lubricate sore spots this tool. But there are some important points. In children up to a year it should be used cautiously and pediatrician appointment. And this is connected with the fact that in medicine, as already reported by our site, there is the oil of anise. It stimulates salivation process. Therefore, a small child can choke a lot of saliva and coughing. If your baby does not swallow and saliva flowing down his chin, then it should be promptly wipe, to avoid irritation to the skin. If the appearance of the teeth is accompanied by the rise of more and temperature, The pediatrician may prescribe suppositories or syrup,containing antipyretic component. In adults with heavy output wisdom teeth require consultation and supervision of an experienced dentist. Sometimes, one has to resort to the removal of a wisdom tooth hanging over the so-called hood. Sometimes wisdom teeth need to be removed if it grows properly, if he does not have enough space. Do not put off a visit to the dentist, hoping Holisal if swells cheek hurts to open my mouth or make swallowing movements, separating out pus.
When inflammation of the gums treatment affected placesshould be carried out twice a day (in the morning when I woke up, washed up, had breakfast, and before going to bed). Before the procedure, you need to brush your teeth well, then within 60 seconds, rinse your mouth with infusion of sage, Miramistin solution, a solution Chlorhexidine"Rotokan" "Maraslavina" "Tantum Verde"which will act as an antiseptic. Then dry with a gauze tamponchikom mucosa. On a dry mucous gel fixation is much better. Now stand in front of the mirror and start to spray Holisal gel. Squeeze a little gel (striped length of 0.5 to 1 cm) to clean your finger and then apply it to the edge of the gums, and then distribute it across the surface, which is located around the teeth. In some cases it is more convenient to use a spatula procedure. Do not forget that in addition to the front of the gums, it is necessary to distribute the gel and by the lingual surface. To the drug to be effective, do not eat after such a lubrication for two or three hours and drink about half an hour. After this treatment, in the mouth would be a process of salivation. Accumulating saliva do not, spit, too. Just swallow it, like they do in everyday life. In the evening, all these steps need to be repeated, and then go to bed.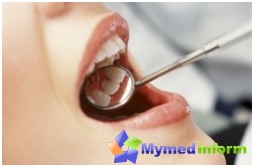 If the patient has periodontitis or gingivitis, theIt is usually the first thing the dentist removes the solid deposits from the surface of teeth. Then the dentist appoint oral rinse. In severe cases, can not do without receiving antimicrobials. At the same time there is a purpose of applying the gel Holisal. If the patient starts to smear sore spots without removal of subgingival and supragingival stones and accumulated plaque, that is, without the elimination of the causative factor of inflammatory processes, the preparation, of course, will contribute to a decrease in the manifestations of inflammation, but then the disease can become chronic with sluggish character. Then around the teeth will gradually break down bone, and teeth begin to wobble. When affected by the disease of periodontal tissues, in some cases it is advisable to lay the gel in the so-called periodontal pockets.
When stomatitis treatment is complex. Holisal gel helps relieve pain and inflammation. Other drugs also will be assigned depending on the reasons for the development of stomatitis. For example, treatment of viral stomatitis be completed antiviral agents in allergic and - antiallergic.
The drug is not contraindicated for use duringpregnancy and lactation. But the manufacturer hedged and notes in the instructions, that in these cases it is necessary to consult with the obstetrician-gynecologist.
At the pharmacy you can meet analogue Holisal called "Mundizal gel". But this tool has a mass of only eight grams, and is more expensive.
Contraindications and side effects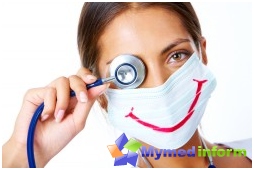 The gel should not be used duringhypersensitivity to those components that are listed in the composition, as well as allergic reactions after application. No negative impact on those who drives a car or other mechanisms that require special attention, the drug has not. Sucrose there is not, so it can be used in diabetes. No cases of overdose recorded by physicians notIt was. In some patients, after application to the mucosa appears Holisal burning sensation, it passes through one or two minutes. And be sure to watch the baby after drawing on his gums of the gel, timely wipe the saliva running down.
Holisal gel is very effective, it can help out indifferent situations involving problems in the mouth. But with frequent pain and suspicion of serious illness do not neglect the treatment to the dentist.