Our lives are filled with not only pleasantsensations, and pain. Pain can have a different character. These unpleasant feelings are strong or weak, short-lived or prolonged, tolerant or painful ...
Pain tells us that the problems in the body,something is wrong. And if the pain is severe, severe, appears in the same area of ​​the body permanently, it is necessary to consult a doctor who will conduct the survey. One of the most popular analgesics, antispasmodics is now the No-Spa - people often ask her at the pharmacy. Our website wants to offer readers this information so that you can learn more about this drug.
Understanding No-Shpe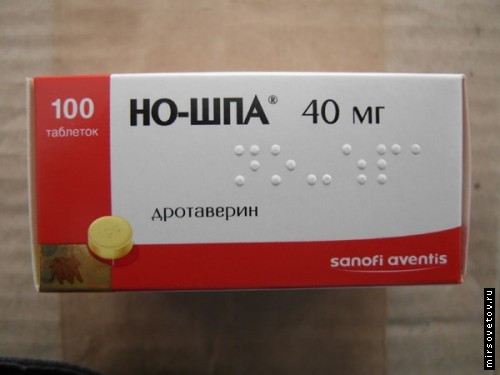 The drug is manufactured by a Hungarian company. It all began in the sixties of the last century. Then the scientists of the Hinoin plant began experimenting with the popular antispasmodic Papaverine in those years. As a result of all the studies, the scientists Zoltan Mesharos and Peter Šentmiklosi managed to find a substance that far surpassed papaverine in the strength of the effect and duration of the therapeutic effect. The main active substance created in those years of the drug is No-Shpy, and this substance has become, the chemical name of which is drotaverine hydrochloride. But No-Shpa is a trade name patented in 1962, which can be translated from Latin as "no spasm". In pharmacies in the USSR, the drug appeared in the seventies of the last century. Available in several forms:
tablets, 40 mg, 20 pieces packed in blisters, and then in cartons;
tablets of 40 mg, packaged 100 pieces in polypropylene vials;
tablets, 40 mg, 60 pieces placed into dispensing containers;
tablets, 80 mg, 20 pieces in a package (forte);
2 ml ampoules in a package of 25 vials of 40 mg Drotaverinum.
Excipients used informing tablets talc, povidone, magnesium stearate, corn starch, lactose monohydrate. No-Spa (40 mg) - a round tablets, biconvex their shape, color yellow, slightly greenish or orangish tinge. On one side there is the marking «spa» (because manufacturers make it clear that is not fake in front of you).
No-Spa forte (80 mg) - it is oblong,convex tablets, the color of which is also yellow with greenish or orangish tinge, but they have on one side there is the marking «NOSPA», and on the other there is a risk.
No-Spa is a drug used in medicine for the prevention and treatment of a number of functional states and pain, which arose as a result of spasm of smooth muscles.
Drotaverinum has antispasmodic, miotropnym, hypotensive, vasodilating action.
Once in the body, No-Shpa not only reducesthe amount of calcium ions entering the smooth muscle cells, while reducing the tone of the smooth muscles of the internal organs (uterus, intestines, urinary and biliary ducts), but it slows down, inhibits their motor activity, helps the blood vessels to expand. The drug does not affect the central nervous and autonomic system.
If a drug is administered intravenously, the effectIt begins to manifest itself in 2 minutes, and its maximum is reached after 30 minutes. Adopted tablet shows its therapeutic effect after only 15 minutes. our website recalls that shpy longer and stronger effect than the Papaverina. This medicine can be used with caution in prostate cancer, closure glaucoma - Illnesses, when the use of m-anticholinergics contraindicated.
When appointed by No-Spa?
By the help of this tool, which can be purchased at any pharmacy, resorted in the following cases:
To combat with spasms of smooth muscle, resulting in cholecystitis, Cholangitis, cholecystolithiasis, cholangiolithiasis (in other words, when hepatic colic), pericholecystitis, papillomas, postcholecystectomy syndrome.
In spasms of the urinary system, namely under cystitis, Pyelitis, nephrolithiasis (renal colic), uretrolitiaze.
Cerebral vasospasm, peripheral vascular disease.
To get rid of painful headaches associated with stress.
In gynecology - for pain during menstruation (andbefore the critical days), to weaken uterine contractions during labor for pain and relieving cervical spasm, or the threat of miscarriage premature birth.
Spasms in the background gastritis. gastric ulcer or duodenum; at colitis, Enterocolitis, spastic constipation, Gastroduodenitis, proctitis, irritable bowel syndrome.
How to take this medicine?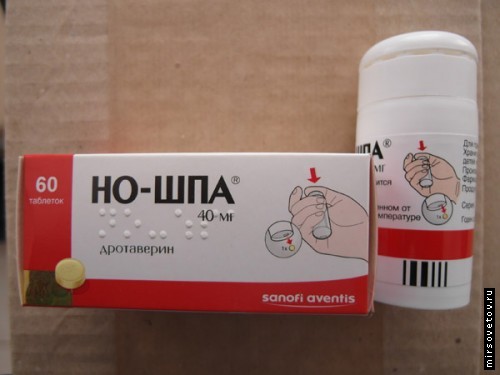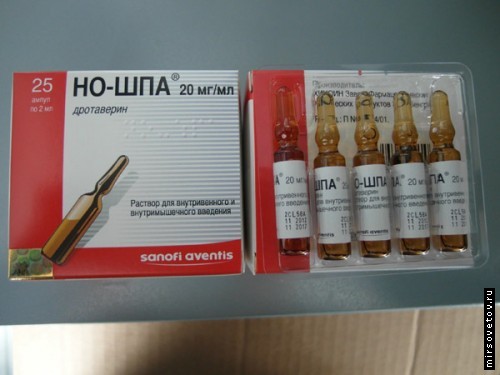 Nospanum drink inside a pill and ampoulesolutions are injected into a vein, muscle, under the skin. Adults are allowed per day to take 1-2 tablets, the number of receptions per day is three. The dosage for children depends on age and the reasons due to which it is necessary to use the drug.
Nospanum forte, in a single tablet whichthere is 80 mg of active ingredient, adult take 1 tablet twice or thrice a day. If the medicine is injected into the vein, the patient must be in a horizontal position. In days of treatment it is not necessary to drive the vehicles engaged in such activities, which require quickness of psychomotor reactions and attention.
No-Spa, combined with aspirin. paracetamol, Diclofenac, ibuprofen It enhances their analgesic effect.
With levodopa medication should not be taken, since it decreases the therapeutic effect, in order to avoid cardiac arrest, paralysis of the respiratory system.
No-Spa during pregnancy
This drug is one of those tools, which can be invoked in the period of gestation. If uterine tone increases, then this tool can reducetension of muscles of the body, in which the hatched baby. Numerous studies have shown that adverse effects on the development of the fetus does not have a cure. Gynecologists recommend that women under stress and pain in the abdomen take pills shpy (no more than 6 units per day). But before you should definitely consult a gynecologist at the antenatal clinic during a routine inspection. The tool can not only take with cervical incompetence. Studies show that if a pregnant woman takes Nospanum, it helps to normalize the activity of the fetal heart. If the baby in the womb reveal tachycardia, The woman introduced Nospanum into the muscle and then passes tachycardia.
Are there any contraindications and side effects?
This effective drug should not be taken with:
severe forms of liver or renal failure;
hypotension;
low cardiac output;
individual intolerance;
in a preparation have lactose, so it is not accepted at deficiency of lactase, galactose intolerance;
lactation.
Sometimes, after applying shpy a person has side effects, such as:
allergic reactions;
cardiogenic shock;
dizziness;
cardiopalmus;
hot flashes;
enhanced sweating;
nausea, Gag reflex, constipation.
Manufacturers of the drug claim that ifall tablets released them shpy would be laid in the chain, such chain could encircle four times the entire globe. All these calculations eloquently indicate that No-Spa is very popular with people around the world. Small yellow pills people trust more than 50 years, they are in almost every home medicine cabinet - just in case - suddenly have to eliminate pain or cramps.