Nozzles-winged samaras sopyat ... It happens that the snoreThis occurs not only in children but also in adults due to nasal congestion, runny nose caused by the banal, sinusitis, maxillary sinusitis. And how hard kids drip drops in the nasal passages to improve breathing! Immediately tears, sobbing, her hands close small face ... In such cases come to the aid phytopreparation Sinupret.
On the forms of manufacture and composition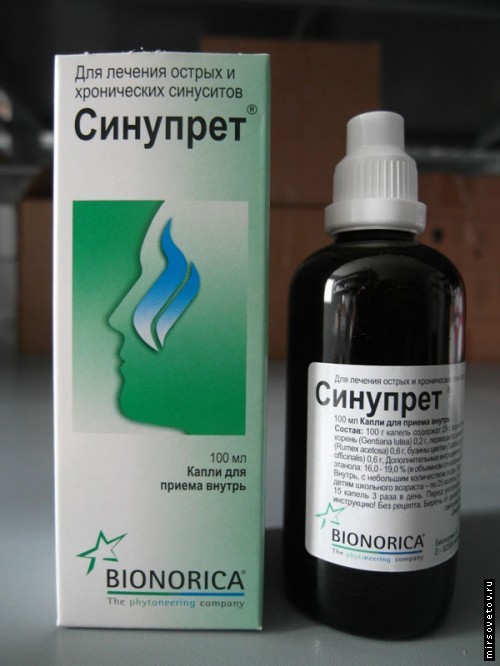 Among the 40 most well-known medicines common cold, according to statistical studies, Sinupretnow ranks fourth in popularity. Pediatricians note that the drug is highly effective, hypoallergenic, well tolerated by patients, safe, very rarely causes side effects. The drug is based on herbs, so it is recommended not only for adults, weakened, but also for children of different age categories. The German company Bionorika produces Sinupret in three dosage forms, the main components of which are:
primrose flowers;
elderberry flowers;
Gentian roots;
herb sorrel;
herb verbena.
Drops for internal use, put up100 ml in bottles with special dropper dispenser. It is a liquid having a yellow-brown color, fragrant smell and bitter taste of herbs. During a small precipitate may form at the bottom of the storage - it is quite permissible phenomenon does not reduce its effectiveness. Just prior to dosing sure to shake the contents of the vial. As auxiliary substances are taken purified water and ethyl alcohol. This aqueous-alcoholic tincture is intended primarily for adults, children are allowed to give it to the age of two.
Syrup - This formulation is designedespecially for kids, it has a pleasant taste, viscous consistency, brownish color. In addition to the active herbal ingredients in it contains: purified water, ethanol (8% of the total volume), maltitol liquid (as a sweetener), cherry flavor.
Drops (50 pack) - ie tabletsround shaped, biconcave, the shell having a green color and protects them from the effects of saliva and digestive juices, it dissolves only when released into the intestine. As used excipients: lactose monohydrate, colloidal silica, potato starch, sorbitol, purified water, stearic acid, gelatin. The shell consists of glucose syrup, calcium carbonate, magnesium oxide, cornstarch, lacquer green and yellow-green, montan wax, dextrin, anhydrous sodium carbonate, saccharose, castor oil, talc, shellac, titanium dioxide, some copolymers povidone K25. Drops accept adults as well as children who have turned six.
Prolonged form pellets (or tablets 20, 50 and 100 units per package), while present in the title "forte", it reduces the number of tablets taken per day twice.
What the properties of the drug?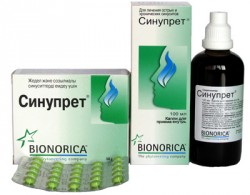 Bottle with a liquid dosage form, you must first shake.
Adults are Sinupret three times a day for 50droplets (boiled in a small amount of water) or 2 tablets. The same dosage of adolescents shows that more than 16 years. Drops do not have to chew, swallow them whole and washed down. mymedinform.com emphasizes that these drops are used only inside, but not for instillation into the nose! If the child is between two and six years old, he should be one reception otkapal in water 15 drops per day is recommended in all three of these reception. If the child is of school age, he may be given three times a day 1 tablet a dig at each reception of 25 drops. Syrup before dosing too agitated. It can be for little diluted with water. The dosage and reception circuitry for kids sets a doctor is dependent on weight, height, age of the child. To the bottle is always attached capful. Treatment usually lasts for about a week, sometimes more. Opened a bottle of syrup or drops should be used within 6 months.
Sinupret forte is designed for adults and children who have reached 12 years of age - 1 tablet three times a day.
The drug can be combined with reception of antibiotics.
If you comply with all the recommendations and doses for a week, and the symptoms persist, then there is no better feeling, it is necessary to inform the doctor that he changed the tactics of treatment.
Are there any side effects?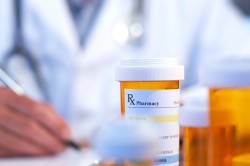 Sinupret referred to as the last preparationsgeneration, there pharmacologists have tried to minimize potential side, that is, unwanted effects. this tool is used infants, pregnant women Due to safety. Side effects are observed only at individual intolerance of the drug, its constituent ingredients. Then may occur allergic reactions (eg, angioedema, dyspnea, Itchy skin) or pain in the upper portionstomach. If you experience these symptoms, you should stop taking the drug and consult a doctor who will prescribe a different treatment. Drops can not be used for those who are lactose intolerant and found the kids up to 6 years. Drops do not give babies under 2 years old and suffering alcoholism or undergoing treatment for the addiction. Particular caution should be exercised when administering Sinupret suffering epilepsy, Liver disease, with head injuries. Data on the effect of the drug on the baby, whose mother receives vehicle during breastfeeding, is not yet available.
Sinupret is released from drugstores without a prescription. But be sure to consult on the dosage and his appointment with the doctor, carefully read the accompanying summary, available in the package.