Druzhnye bee colonies not only produce sweet honey, but also many other valuable and unique products. Among them ambrosia. It can be used in treatment of certain diseases.
Composition of pollen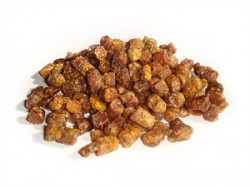 You need nectar for the production of honey bees, andfor pollen - pollen of different flowering plants. The hive-bees toiler deliver it on their hind legs (the legs) in the form of two tiny balls. Therefore, this pollen is called - "obnozhka". Brought by bees pollen densely laid out in the cell. Then it is processed by special enzymes secreted by them. Then comes pouring honey and sealing. The air in the cell does not fall under the influence of temperature, enzymes, honey and pollen in the hive undergoes a process of lactic fermentation and gradually turns into ambrosia. This product is produced adult bees, and then use it for feeding of offspring. Therefore, more ambrosia called "Khlebino", "bee bread". The interesting thing is that bees pick up pollen from different plants for delivery to a cell, there is a whole mix of certain trace elements. Ambrosia - a protein compound, biological value is greater than the value of the eggs, milk, meat. Protein components of pollen are similar in composition to human blood protein structures. Due to this, they are easily absorbed in the body. The 20 amino acids found perge, vitamins (C, A, D, P, E, B6, B1, B2), carbohydrates, hormone-like substances, micro- and macrocells, there have iron, zinc, magnesium, copper, cobalt, platinum, gold 13 fatty acids. Perga can be described as balanced a valuable product that can fill the body with useful elements.
Medicinal properties of the product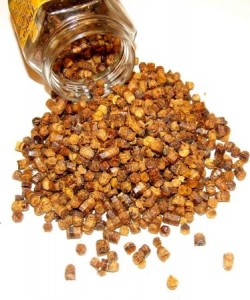 You may encounter several types of pollen:
The cells - that is, in the form in which it madebees. This pollen is not processed by the beekeeper. These cell chew hard, they are tough. Such a product can be eaten by the larvae of wax moth or moldy when excess humidity.
Pergovaya paste (ie milled pollen) - sheproduced by man. Perga of the cells are ground in a meat grinder and add to the resulting mass of honey. It kept it nice, but not all of it may eat, for in the present paste honey, but he's allergies can worsen the condition.
Extracted from the honeycomb pollen. In appearance it resembles a hexagonal cylinders, free from wax, foreign matter. This high-quality pollen is stored for a long time, it is more expensive.
The taste of sweet ambrosia, it is a combination of sweet,sour, and bitter. Depending on what operating plants was taken pollen, where they grew up, the taste of "bee bread" can vary a little, but he is never cloying. Beekeepers say the best and healing "Khlebino" is derived from the pollen, which is "winged healers" have collected from the flowers of wild plants.
If you purchased or paste pergovuyugranular ambrosia, then it is necessary to store these products in glass jars, which should stand in a cool, dry, dark place, be sure lid is closed. Storage time - about a year. You can not put ambrosia in the refrigerator, there is high humidity, the product can become moldy. The freezer can not put the ambrosia, there it will lose some of its valuable components. Now MirSovetov tell you how to make ambrosia correctly.
Perga is necessary to dissolve like candy, candy, it is better absorbed by saliva.
no need to wash down ambrosia.
After receiving the healing of the product do not eat or drink for 20-30 minutes.
Hypertensive can eat ambrosia both before admissionmeal and after. But for people who have low or normal blood pressure, it is recommended to take ambrosia an hour after eating. This is due to the fact that pollen adopted on an empty stomach, can dramatically lower blood pressure, Whereby it seems that the health deteriorated. This phenomenon is temporary - unpleasant condition will disappear after 30 minutes, the pressure comes back to normal.
If you do not like the taste of ambrosia, then it can be mixed with honey, cheese, warm porridge.
In hot dishes add ambrosia can not, it will lose its valuable qualities.
19 hours later to take ambrosia is not necessary, because it tones, you will be more difficult to fall asleep.
Are there any contraindications?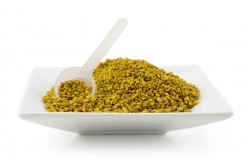 This product can not be used when:
tendency to bleeding (gynecology, ulcer, hemorrhoidal bleeding) - pollen reduces blood clotting;
individual intolerance.
Keep in mind that some people ambrosiamay cause allergic reactions. To avoid them, it is necessary to begin treatment with a trial doses. On the first day of not more than 3 rassosite granules. If the state of health has not deteriorated, on the second day you can rassosat 6 granules, and the conclusions on the further reception can be done already on the following day. Be sure before taking pollen consult with your doctor if you have:
toxic goiter;
severe stage oncology.
Treatment of pollen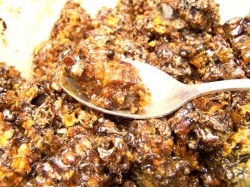 When anemia is recommended to drink three times a day, half a teaspoon of granules. This should be done within 30 days, followed by a two-week break, followed by a second course possible.
at neuroses for three weeks, take a teaspoon of pollen, mixing it with honey, 3 times a day.
Hypertensive patients are advised to take 30 minutes before eating half a teaspoon of medicinal product as over 30 days. Repeated course is possible after 14 days.
People with cardiac arrhythmia should beuse for half a tablespoon of pollen, but it is necessary to pre-infuse in 50 ml of water for 15 minutes. The treatment lasts for at least a month. Possible to continue treatment after a two-week break.
In adenoma and other male problems as a supplement to the basic treatment taken twice a day in a teaspoon of pollen (one hour before meals in the morning).
Bronchial asthma. bronchitis, Bronchopneumonia, coldTonsillitis - teaspoon twice daily.
To stay young, to energize the body, it is necessary to eat pollen daily incomplete tablespoon. Babies should be given on half a teaspoon twice a day (morning).
They like ambrosia and athletes - it helps build muscle, have endurance in training and competitions.
The dosage should not be exceeded, its increase to 60 grams a day is bad for the liver, spleen and kidneys.
In some cases even allowed reception pollen?
Diseases of the blood, heart, circulatory disorders (combined with honey).
Peptic ulcer, gastritis. constipation, Pancreas and liver.
dysbacterioses, Enterocolitis, enteritis.
Atherosclerosis. hypertension (In its pure form, without mixing with honey).
Perga doctors believe an effective naturalin helping to cure in the treatment of many diseases. Regular consumption of pollen brings vigor, well-being, activity, increase immunity. It has been observed that the beekeepers, periodically applying ambrosia, live longer.