The pharmacy among the colorful packaging, placedon the shelf with vitamins, you can see a "modest" Ascorutin. This vitamin is represented by the combination of two means vitamins - askorbinki and rutin, which is reflected in the title.
When useful is inexpensive means? Like all whether it should be applied? Even if pleasant acidic taste of the tablets, however, their number per day should be dosed, otherwise it may cause side effects, instead of improving health.
General information about the preparation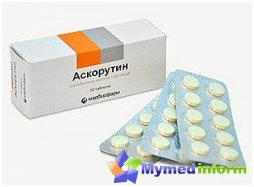 Ascorutinum produced by 100, 50, 30 and 10tablets. Their color - greenish-yellow, and the taste - sour. Each tablet contains 50 mg, and the same routine askorbinki (vitamin C). As auxiliary substances may be used in producing sugar, potato starch, talc, calcium stearate.
This tool is able to compensate for the lackascorbic acid, and rutin (vitamin P) in the body. The above elements are actively involved in redox processes, act as antioxidants. Vitamin P prevents the destruction of ascorbic acid,in his presence, body tissues are much better absorbed. These components have a beneficial effect on the walls of blood vessels, contribute to their strengthening, significantly reduce their fragility, and reduce permeability. Particularly well, Ascorutin manages to strengthen numerous small vessels of the large bloodstream, called capillaries. Ascorbic acid increases the resistance of participants in the immune system of various kinds of infectious agents seeking to enter the body. She participates in blood coagulation mechanisms, regeneration of damaged cells and tissues, lipid metabolism, collagen synthesis.
In addition sosudoukreplyayuschee action routines can show antiplatelet properties, improves microcirculation.
As shown Ascorutinum reception?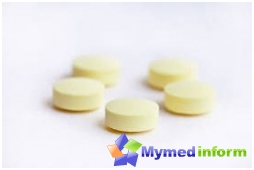 As monotherapy Ascorutin used only for prophylactic purposes. But it is for the treatment of diseases, is generally used in combination with other drugs.
Take the pill is best after a meal, washed downwith water. Do not dissolve and chew this medicine because it contained askorbinka then can negatively affect enamel, destroying it. Take care of your teeth, swallow the pills whole. And another warning from our website: do not wash down the tool mineral water. She alkaline reaction medium, so in this case there will be a partial neutralization of ascorbic acid. The dosage for prevention: one tablet twice a day. With the purpose of treatment Ascorutin take three times a day. The average rate - three to four weeks.
For the prevention of infection by viral infectionschildren for ten days given by half or a whole tablet (depending on age). The dosage for the treatment of young patients determines the pediatrician.
If a woman has very heavy periods,protracted, then begin receiving Ascorutinum tablets should be about 4 days before the arrival of menstruation. Admission Ascorutinum should be continued for 10 days. This is only an aid, so be sure to visit the gynecologist, he helped to cope with this problem.
When varicose Ascorutin also prescribe, and,the dose may be increased to 6 tablets per day. It can be a component of comprehensive treatment of this pathology veins. It helps to reduce congestion, swelling on the feet, to strengthen the vascular wall, in combination with other medications to remove inflammation therein.
Ascorutin can be recommended for rosacea. This is the phenomenon of expansion of small capillaries.facial skin. A person first notices a red "star" on the tip of his nose, cheeks, forehead or chin, then a red "net" is seen in these places. In such situations, Ascorutin should be taken not only inside, but also externally. You can make such a tonic. Infuse two teaspoons (without a hill) of flowers of a pharmaceutical chamomile in 100 ml of boiling water for 45 minutes. After cooling and straining, add Ascorutin tablet, previously thoroughly crushed into powder, into this therapeutic agent. Wipe problem areas on your skin twice a day with this tonic.
Ascorutin Pregnant women female doctorconsultation can prescribe to prevent respiratory infections, strengthening the placental blood vessels and reduce the risk of bleeding from the uterus during childbirth.
About side effects and overdose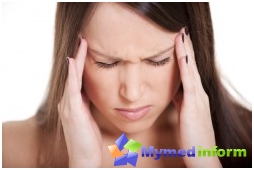 Most people welcome Ascorutinum well tolerated. And yet, there were cases when the patient has adverse effects during therapy Ascorutinum:
skin rash (allergic origin);
increased blood pressure.
If you do not comply with the dosage, for a long time anduncontrolled use tart Vitaminka, then this tool can cause the formation of kidney and urinary tract oxalate calculi (stones).
If a person so carried away that took 10-20 tablets a few hours, the symptoms may appear, indicating an overdose:
nausea, vomiting, diarrhea;
epigastric pain (due to irritation of the mucosa of the digestive system);
irritability;
itching, skin rash;
high blood pressure;
headache;
sleep disturbances.
An overdose can cause a malfunction of the pancreas and kidney.
With obvious signs of overdose with this drug must be taken Activated carbon (In an amount of 4-5 tablets) and seek medical advice.
Are there any contraindications?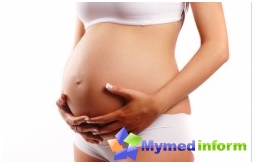 Manufacturers in the accompanying instructions say these contraindications:
the first 12 weeks of pregnancy;
kids up to three years;
allergy to vitamins C, P, and hypersensitivity to the components specified in the composition;
at an elevated blood clotting and the propensity to thrombosis.
In high doses, this drug should not be used suffering gout. diabetes, Thrombophlebitis, oksalaturiey.
Although Ascorutin can be purchased without a prescription pharmacist, always consult with your doctor if you have chronic diseases.