Different drugs have long been done in people offlowers of horse chestnut, peel, taken from its fruit and bark, taken from the branches. These tools help people with hemorrhoids and varicose veins of the limbs. Today, our site will tell you about the pharmacy preparation Eskuzane, which includes components of horse chestnut.
Understanding Eskuzane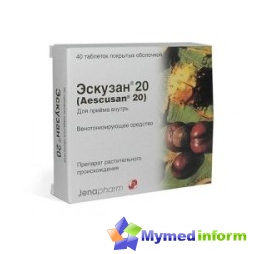 Aescusan manufactured in Germany. Its main active ingredient - escin, obtained directly from the horse chestnut. Now launched production of several dosage forms Aescusan containing dry extract of its fruit:
Drops - the solution for ingestion, havingreddish-brown or yellowish color. The contents of the vial (20, 60 ml) may be transparent or slightly unclear at the bottom allowed the presence of a small residue. There is a peculiar odor. The solution is packaged in bottles of dark glass, equipped with special caps, droppers. Besides escin is present in a preparation of vitamin B1.
Drops - here escin content in 1 tablet of 5 mg. Total is present in the package of 100 pills.
Tablets - each is coated with a red-brown shell and contains 20 mg escin. Therefore, on the packaging next to the name you will see the number "20". They are packaged in 20, 50 or 100 pieces.
Tablets having a duration of action - in each such tablet is concentrated 50 mg escin. On the packaging there is an inscription "retard." These tablets are packed by 40 pieces.
The gel or cream - used for topical application to areas of concern, in a light gel base and better absorption.
Aescusan ascribed to angioprotectors group. These drugs strengthen vessels. In addition, Aescusan can improve blood flow in the vein of microvessels. All the above forms of the agents used in the treatment of disorders of the venous circulatory.
Action Aescusan
Aescusan recommended under these conditions arising from vein disease, such as:
How to use the drug?
Doctors usually prescribe Aescusan 20 for treatmenta dose of 2 (or 3) tablets three times a day. Then, after a course of therapy to supportive dosage: one tablet three times a day also. Take Aescusan necessary before a meal.
If assigned in Aescusan dragees, they are used by a 1 (or 3) three times a day. reception time as tablets and - up to eating.
If discharged prolonged action tablets (50 mg) to their drinking food twice a day for one tablet.
If you will use for the treatment in Aescusanas drops, each time shake well before dosing bottle. Unearth then a small amount of water droplets on the 12-15 solution and drink. So three times a day.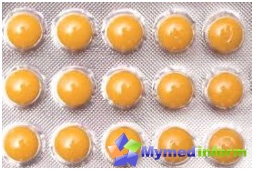 This preparation is necessary to drink plenty of water. If you suddenly appear symptoms, indicating that there is irritation of the digestive tract - heartburn. flatulence, Then the drug should be taken immediately with food. Tell your doctor about it. It may reduce the dosage.
To achieve good, stable treatment effectsEskuzanom spend a long time, not less than three months. Sometimes, this course may be extended or re-appointed after a break. It all depends on the severity of pathological changes in the veins.
The manufacturer warns that Escuzan tablets should be taken with caution if you are taking drugs such as:
If suddenly developed venous thrombosis of the lowerlimbs, the Aescusan immediately canceled. About suggest thrombosis: a feeling of hot skin, tension, pain in any place of his feet, blanching, or conversely, redness of the skin.
A few words about the use of a gel, creamAescusan. They are applied preferably on washed and towel obsushennye legs. Apply Aescusan to his feet with light, massaging movements from the feet to the hips. The procedure is repeated two or three times a day - depending on the state of health. If there is damage to the integrity of the skin, the gel or cream is applied, so as not to cause burning and irritation of damaged tissues. Do not forget to wash your hands immediately to remedy this accident did not fall on the mucous membranes (eyes, nose, etc.). If necessary, these external funds may be used by pregnant women or children.
Contraindications and side effects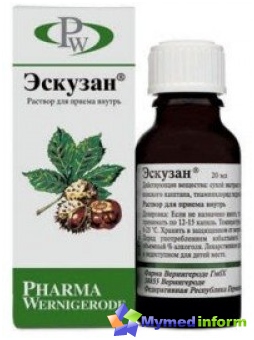 The tablets should not be administered in the following situations:
The drops are not administered during pregnancy, lactation, hypersensitivity to the drug, the children, aged less than 12 years, with a deficit of lactase and galactose intolerance.
Jelly beans contain little escin, so they have the manufacturer specifies only one absolute contraindication: insufficient kidney function.
Some patients Aescusan (drops or tablets) may cause:
But the external form (gel or cream) may not be used only in the case when applied, there are signs of hypersensitivity to the components of the composition.
To treatment to be successful, it is used forNot only the outer dosage forms, but also internal. Do not neglect and contrasting foot bath or shower, physiotherapy. In more severe cases, wear special tights or stockings. And during the long course of therapy with phytopreparation Aescusan periodically visit your doctor, in some cases, require monitoring of renal function.