Folk medicine has long been usedrhizome and aboveground part of the inhabitants of the marshes and lakes - dekopa capable like a saber cut joint pain, rheumatism, osteochondrosis. Many people helped the miracle doctor, who then received another name - Potentilla, get rid of the annoying crutches, straighten and return to an active lifestyle, and brisk.
Folk medicine has long been usedrhizome and aboveground part of the inhabitants of the marshes and lakes - dekopa capable like a saber cut joint pain, rheumatism, osteochondrosis. Many people helped the miracle doctor, who then received another name - Potentilla, get rid of the annoying crutches, straighten and return to an active lifestyle, and brisk. Now, modern doctors advise their patients tinctures, ointments cinquefoil. This plant successfully fights with a number of diseases, some of which were previously considered untreatable. Currently, pharmacologists and scientists Cancer Center carefully study the therapeutic properties dekopa to create on its basis medication with anti-tumor effect. About the medicinal properties of marsh cinquefoil and will be discussed in the article.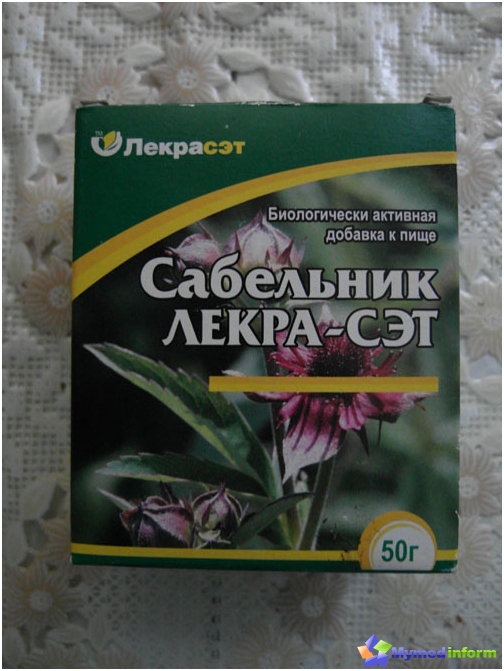 Potentilla (rootstock and grass)
Description of plant
Potentilla is found in swampy areas alonglakes and rivers. Grow can be up to a meter in height. The leaves have dark green on the upper side and pubescent (felt) below elongated, with teeth. Lower leaves consist of five or seven parts, but the top - trifoliate like strawberry. Dekop is a shrub, stem lifts and lignified, the color is reddish-brown. Flowering calyx dark purple or maroon with five petals. The extraordinary beauty of flowers has inspired the poet V. Rubtsov to write a poem dedicated Firebloom. The people Sabelnik name differently - sustavnik, pyatiperstnik, fireflower, Rakovnik, marsh cinquefoil, dekop and even Russian ginseng. But the Latin name sounds - Comarum palustre. Overground part is collected during flowering in June, but the rhizome - in late autumn. Rhizomes have dekopa long, intertwined with numerous back-processes and form a layer, a thick "pillow", which can withstand the weight of a person to collect them.
The components of the composition
The composition is studied by scientists is not enough. But here is a collection of useful substances is already known: tannins, saponins, essential oils (terpenoids), organic acids, resins, vitamin C, carotene, flavonoids (chief among them - quercetin), phenylcarboxylic acid, catechins. Micronutrients Comarum copper, magnesium, phosphorus, potassium, calcium. The flowers of many anthocyanin.
What action has Sabelnik?
That plant is endowed with such abilities:
The most important of his action - the treatment of the joints. It relieves pain, inflammation, improves the structure and strength of cartilage, normalizes the production of synovial fluid.
It cleans the blood, improves metabolic processes.
Find the weak spots in the body and treats them in the first place.
The only known plant that can renew damaged or weakened cells of tissues and organs.
Good tones the body and removes toxins, pollutants, radionuclides.
It has styptic, astringent, diaphoretic and analgesic effect.
We study the anti-tumor effect of the plant.
General indications for use cinquefoil
I will list the main diseases in which the recommended intake of various dosage forms of this plant:
rheumatism, osteoarthritis, arthritis, arthritis, osteochondrosis, intervertebral hernia, lumbago, osteoporosis, salt deposits;
different types of chronic hepatitis, cholelithiasis;
angina, ischemic and other heart diseases;
in gynecology with mastitis, mastopathies, Vaginitis, and uterine bleeding;
as a therapeutic and prophylactic agent for Breast Cancer, Intestine and stomach in the treatment;
hemorrhoids, Diarrhea, thrombophlebitis;
leukemia and lymphoma;
as a rinse to strengthen the teeth and gums;
sore throat, Tonsillitis, periodontitis, stomatitis;
bruises, boils and abscesses;
dog bites, rabies patients.
Formulations
For the treatment of cinquefoil can prepare an infusion, decoction, oil, ointment, bath. Before use, it is desirable to purification of the body. The infusion can be done easily in a thermos and covered backtablespoon with the top chopped rhizomes, Bay 250 ml of boiling water. Extraction of active ingredients will be about 6 hours. This is followed by filtering. The resulting drug drink in three divided doses for 20 minutes before a meal during the day.
But the most effective way is consideredtincture. Make it can be at home. Herbalists take 50 grams of dried rhizomes or 150g raw, put them in a quart jar, you can take the other vessel was poured to 500 mL of 40% alcohol or a good vodka. Close the lid. Put in a dark place, for example, in the closet. Sometimes you will need to shake the contents. After 21 days, you can filter the tincture. Tips for Getting the tool used for grinding or drink into a tablespoon, stir in 50 ml of water before meals Moments of 10. And so three times a day. 20 days of taking the medicine, and then 3 days rest. And so the 4th year.
Features of the treatment of Potentilla
To achieve the best results in the treatment, it is advisable not to eat in those days, meat products, sour and salty foods, abstain from alcohol and boiled milk.
If the first few days of taking the drugs from dekopaexacerbated chronic diseases, do not be afraid, you can only slightly reduce the dose. These phenomena are temporary, so Sabelnik began active treatment of the body.
Try not to catch a cold while taking dekopa.
Remember that the treatment of Potentilla long and requires adherence to the correct dosage and number of doses.
Contraindications
Do not take drugs cinquefoilpregnancy, lactation, if marked idiosyncrasy. The infusion is not indicated for children. Due to the presence of alcohol, be careful with these diseases:
trauma and brain pathology;
severe functional disorders of the liver and kidneys;
epilepsy and chronic alcoholism.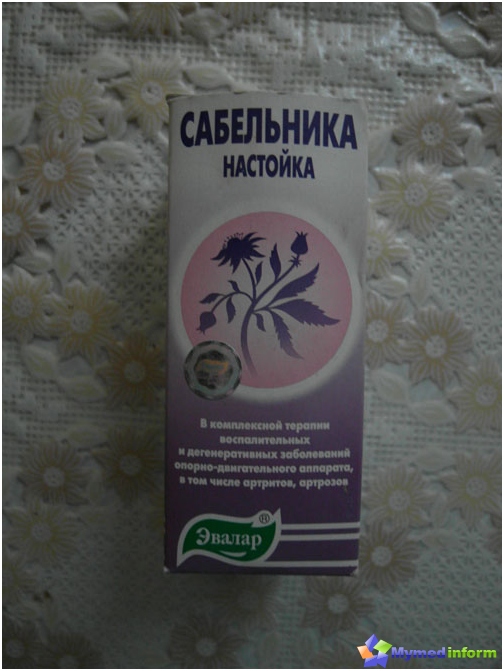 cinquefoil tincture
For more information about cinquefoil tincture of pharmacy
The pharmacy tincture acts made bythe following recipe. Take 100 grams of rhizomes cinquefoil, crushed and filled with 40% ethanol. Alcohol takes so much to get 1000 ml of solution. After filtering the infusion and the finished dosage form is a reddish-brown transparent liquid having a specific smell. Sometimes it may fall out during storage precipitate is allowed.
Pharmacological properties. The drug has a pronounced analgesic (painkillers) and anti-inflammatory properties.
Doctors recommend its use in treatment of degenerative and inflammatory musculoskeletal system (ODE): arthrosis. arthritis, Polyarthritis, osteoarthritis and others. Doctors usually prescribe 5ml tincture 50 ml of water inside two times a day.
The course - 2 months. Then you may be required and repeated courses. To enhance the effect of the treatment can be done twice a day, rubbing the joints of patients.
Necessarily it is necessary to comply with the dosage, otherwise it may happen alcohol poisoning.
If the doctor appoints other drugs from the groupNSAIDs, such as diclofenac, indomethacin, Potentilla then amplifies their effect, therefore possible to reduce the number of receptions and dosages of these drugs.
Long-term treatment is sometimes possible lockup psychomotor reactions, it is necessary to keep in mind those who work with the mechanisms and drivers, because the product contains alcohol.
Producing this infusion in vials of dark glass of 100 and 50 ml. No special storage conditions required. Keep out of the reach of children. Be sure to watch the expiration date on the package.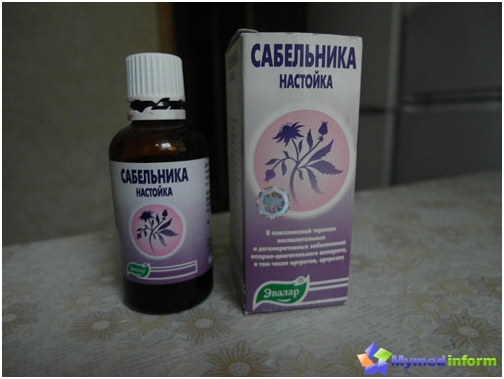 Potentilla. Tincture in a bottle
Potentilla - a very modest living in marshyPlace plants and has many medicinal properties, thanks to which many sufferers get up on your feet and get rid of various ailments. The main thing - patience, long-term use and compliance with all the recommendations and characteristics of the treatment. And do not forget, dear readers of our site, observe and consult with their doctors.